U.S. Renewable Energy Market Revenues to Reach $87 Billion by 2015 – Ground Breaking Report from Zpryme and ICP Strategies.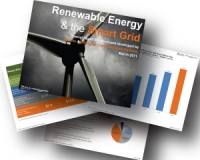 FOR IMMEDIATE RELEASE / PRURGENT

Austin, TX - (Zpryme) – 03/09/11 – The market opportunity for renewable energy in the U.S. is substantial and far ranging, but faces a mix of immediate and long-term challenges. This is the bottom line for a ground breaking industry report that has just been published as a co-venture between Zpryme Research & Consulting and ICP Strategies. With oil prices surging in the latest round of geopolitical uncertainty, the urgency to develop alternative energy sources in the U.S. has never been greater.

Titled "Renewable Energy and the Smart Grid", this report sets the stage for any company looking to understand where and how renewable energy fits into the larger picture of Smart Grid, and the massive transformation our entire energy ecosystem is now undergoing. The report includes an extensive set of forecasts for each segment of renewable energy from 2010 – 2015, covering wind, solar, hydro, geothermal and biomass. Complementing this is a strategic analysis of each segment, along with a macro level assessment of market trends, opportunities, new business models, and conclusions around paths to success.

Key findings from the report that can be purchased here include:



In 2010, renewable energy accounted for 11.5% of U.S. electricity generation, but by 2015, that share will grow to 15.2%


U.S. renewable energy revenues are projected to grow from $60.2 billion in 2010 to $87.3 billion in 2015, representing a 7.7% annualized growth rate


The overall market for U.S. renewable energy manufacturing, equipment and technology is currently estimated at $127.5 billion, and is projected to more than double to $263.2 billion by 2015


Smart Renewable energy technologies is an emerging growth area, but is forecast to reach $15.9 billion by 2015



"The renewable energy opportunity goes beyond basic economics, and we've produced this report to provide the industry with a practical roadmap" said Jon Arnold of ICP Strategies, and co-author of the report. "This is a global trend, and we anticipate producing similar reports for other regions to provide a more complete picture for renewable energy."

"The growth of the renewable energy space is going to open doors for Smart Grid vendors and manufacturers that can provide niche systems, software and equipment that can integrate renewable energy sources in the Intelligent Utility ecosystem" explains Jason S. Rodriguez, CEO and Director of Research of Zpryme. "In this report, we attempt to identify the core areas within the utility landscape that will need to be served as utilities deploy Smart Grid and renewable energy sources simultaneously."

This unique blend of analysis, strategic insights and granular forecasts goes beyond conventional market studies, and the report has been produced in a user-friendly format that is easy to read for decision makers at all levels of expertise. The report authors had this in mind from the outset, and the co-venture between Zpryme and ICP Strategies was recently formed specifically to address this need.

For more information about the complimentary Executive Summary, purchasing the full report, custom research inquiries or media requests with the authors, please visit: www.smartgridresearch.org

Or email us at renewable
zpryme.com or call us at +1 888.977.3631 ext 105.

About Zpryme
Zpryme-powered Electric Vehicle and Smart Grid Insight practices and the all new www.smartgridresearch.org help organizations understand their business environment, engage consumers, inspire innovation, and take action. These practices represent an evolution beyond traditional market research and consulting: combining sound fundamentals, innovative tools and methodologies, industry experience, and creative/marketing savvy to supercharge clients' success. At Zpryme, we don't produce tables and charts; we deliver opportunity-focused, actionable insight that is both engaging and easy-to-digest. For more information, visit www.zpryme.com.

About ICP Strategies
ICP Strategies is highly regarded for its smart grid conferences, thought leadership and strategic analysis. For more information, visit www.icpstrategies.com.