Canadian gourmet grocer Urban Fare has quite literally rolled out the red carpet for the arrival of a rarely seen food celebrity of sorts. Square watermelons are on display at it's 5 British Columbia locations.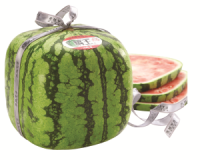 FOR IMMEDIATE RELEASE / PRURGENT

Perched on pedestals, under the glow of spot lighting and closely guarded, these cubic culinary wonders are now on display at each of Urban Fare's 5 Canadian stores.

But the lack of curves isn't due to some genetic modification; these melons are grown naturally! 30 years ago on the Japanese Island of Shikoku, a farmer discovered a way to produce a melon that could be stacked and wouldn't roll off of his refrigerator shelf. The resulting square watermelon, grown in a glass box with a lot of attention and nurturing, proved impractical for commercial production. To this day, only a few hundred of these melons are produced each year, mostly for the Japanese elite.

If you want to see one, you'll have to hurry as they're only around for another week. Urban Fare is the only place is North America where you will find Square Watermelons.

Unlike other celebrities, the Square Watermelons actually enjoy the flashbulbs of the Paparazzi and the public is invited to come take photos and enter to win their own melon as part of a social media contest.

About Urban Fare: The first Urban Fare opened its doors in 1999 in the revitalized former warehouse district of Yaletown,in Vancouver's city centre. The gourmet grocer has grown to include a total of 4 Vancouver stores as well as 1 location in Kelowna.

Urban Fare offers innovative environments merchandised with a unique assortment of products with the emphasis on the best local, natural, organic, and first-to-market foods. Urban Fare is Vancouver's
premiere food destination and a true food lover's paradise.