Mapline has a new website which offers enhanced features and better services.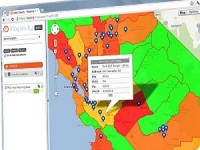 FOR IMMEDIATE RELEASE / PRURGENT

The new website of Topo.ly went live this January 2014. It now goes with the name "Mapline." The launch of the new website located at www.mapline.com offers quick access to mapping tools that can be easily used for data analysis. This huge change is part of the company's continuous efforts to enhance the quality of data understanding and improve the availability of timely information needed to help organizations:




Develop business models


Create business plans


Understand the market


Optimize logistics




The website boasts a simple and user-friendly design and is divided into 4 sections:




Features of Mapline


Pricing


Help and Support


Blog




Each page provides detailed information on all 4 aspects of the leading online mapping site's functions.

Mapline offers different features:

Create a Map from Excel Data

Mapline users will now find it easier to create a map from Excel data. The website allows them to simply copy and paste the list of address locations of customers from the spreadsheet. In just a minute, the map is available to view. This feature makes data visualization of Excel data for advanced analysis an easy task.


Share and Embed Maps

Mapline users can share maps with their team, no matter how far or near they are with each other. Interaction can still be done based on the shared maps in real time. The embed map feature is equally useful. Within minutes, maps can be embedded on the organization's' official website. This is most useful in building a store locator

Add multiple data sets to maps and customize their marker images

Mapline enables the users to change the icon size, color, and shape as well as upload a custom image. This feature helps to easily distinguish between location sets by customizing their markers.

Showing Location Labels

In just one click, Mapline users can display each location's name or label. This feature is useful especially when users are preparing for a PowerPoint presentation or print a map.

Filter Visible Locations

Excel data can be simplified by using Mapline's filters. Quickly apply filters to view locations with certain attributes.

Heatmapping

Mapline offers a useful feature call heatmapping using particular set of territory boundaries. Plus users can heatmap territories to distinguish which areas are more dense. For instance, areas with a lot of locations appear red and areas with few locations appear green. This heatmapping feature is also best used when identifying areas with greater total sales of stores compared to those with the least. This is one of the most sought-after feature as companies are able to optimize their sales territories and identify growth opportunities.

High Data Security

The team behind Mapline understand that data needs to be protected. They value the security and made it their first priority. The users' maps and data are always private by default and only visible to individual users. Additionally, Plus members have a secure https connection to increase the security of your connection.