SSI Working to Prevent Disease Rapidly Spreading to the US While Reaching Epidemic Proportions Worldwide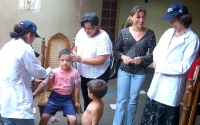 FOR IMMEDIATE RELEASE

Berkeley, CA, October 10, 2014. The Sustainable Sciences Institute announced today that it has received a supplemental grant from the National Institutes of Health (NIH) of nearly $150,000 to screen for Chikungunya virus in Nicaragua.

Traditionally thought of as a "tropical disease", Chikungunya is a viral mosquito-borne disease that causes fever, severe joint pain, and occasionally death. Chikungunya was recently transmitted in the United States for the first time in history. To date in 2014, more than 1,000 cases have been reported to the US Centers for Disease Control and Prevention (CDC), though the actual number is likely higher. Although some of these cases were acquired while traveling internationally and brought to the US, local transmission has begun – an unprecedented occurrence that indicates the rapidly spreading nature of this disease.

As the climate changes via global warming, mosquito breeding grounds continue to expand into subtropical regions including parts of the U.S. In the Americas, both dengue and Chikungunya viruses – which share some clinical signs that may cause the latter to be mistaken for the former in areas where dengue is common - are transmitted via the Aedes aegypti and albopictus mosquitoes. Fighting to prevent and control emerging diseases, the Nicaraguan subsidiary of the Sustainable Sciences Institute (SSI), a non-profit organization founded by professor Eva Harris of the School of Public Health at the University of California at Berkeley, received a grant from the National Institutes of Health (NIH) IRIDA program (International Research in Infections Diseases Excluding AIDS) to screen for Chikungunya virus in their ongoing Nicaraguan Pediatric Dengue Study. Nearly 4,000 children aged 2-14 participate in this study. As per the terms of SSI's collaborative research model, all children receive immediate medical attention if found to be ill.

Known for decades of research into emerging and re-emerging infectious diseases in developing nations, including dengue, influenza, and hepatitis C, SSI uses state-of-the-art technology and validated clinical laboratory processes to generate invaluable data, which is then shared with partners worldwide.

With a unique approach, SSI supports public health systems by training local scientists in appropriate technologies and tools to understand and combat disease outbreaks by creating sustainable public health solutions. SSI has encouraged communities to prevent mosquito breeding at the source by engaging participants in unusual and creative ways. From community reggaeton concerts, to mobile apps, SSI provides essential information via community-led initiatives. Most recently, SSI teamed up with the University of California, Berkeley's Social Apps Lab at CITRIS to create an interactive web and cellphone application called "Dengue Torpedo" in Brazil and "Dengue Chat" in Nicaragua and Mexico. This app motivates community residents to identify, report, and eliminate mosquito breeding containers, and has social media, gaming, and educational components. With the overall goal of strengthening sustainable public health systems, SSI has also worked closely with the Ministry of Health in Nicaragua to support Chikungunya screening at the national level.

According to the CDC, Chikungunya symptoms begin with high fever and severe joint pain. Other symptoms include muscle pain, headache, nausea, fatigue and rash. The disease shares some clinical signs with dengue. There is currently no cure for either disease, and treatment focuses on relieving symptoms. The proximity of mosquito breeding sites to human populations is the most significant risk factor for both Chikungunya and dengue.

The CDC also notes that the first case of locally-transmitted Chikungunya in the Americas was reported in 2013, though it quickly reached epidemic proportions in many countries. First described during an outbreak in southern Tanzania in 1952, the name derives from a word in the Kimakonde language, meaning "to become contorted," describing the stooped appearance of joint pain sufferers. While most patients do recover, joint pain can last for several months and even years. Occasional eye, neurological and heart complications have been reported. Though not generally fatal, the disease and its symptoms can be severe and debilitating.

As climate change progresses, both Chikungunya and dengue continue to spread rapidly to new areas, with cases recently reported in both Florida and Texas. SSI, the CDC and other organizations are working to apply real-world solutions and prevention strategies to attempt to curb the next global epidemic.

Read more on how SSI mobilizes communities and uses cutting-edge science to prevent mosquito-borne diseases. (http://casestudiesforglobalhealth.org/post.cfm/dengue-fever-spreading-the-message-stopping-the-disease)

About SSI

The Sustainable Sciences Institute (SSI) is an international non-profit organization that works to improve public health in developing countries by strengthening local health science and research capacity for high priority disease issues.

It is our mission to build scientific capacity for public health worldwide. Our work is based on the premise that global health relies on biomedical scientists and public health workers who can recognize and resolve critical health problems at the local level. Our unique scientist-to-scientist training model helps to ensure that the knowledge and human resources necessary for strong public health research systems are developed with local partners for long-term sustainability.

To that end, we help researchers gain access to training, funding, information, equipment, and supplies, so that they can better meet the public health needs of their own communities. Our current geographic reach includes thirteen Latin American countries and Egypt, and we have recently expanded our work to include additional countries in Africa.

SSI is recognized as a leader in scientific capacity building in limited resource settings. Our technology transfer and training programs have been lauded as a model by the World Health Organization, the Pan American Health Organization, the Organization of American States, the National Academy of Sciences, and the National Science Foundation, as well as by collaborators and health officials in developing countries where we work.


SSI's flagship project is in Managua, Nicaragua, where SSI has worked since its inception with talented scientists and health workers to strengthen scientific capacity in the public health sector. The Instituto de Ciencias Sostenibles was incorporated in 2004 as the local SSI subsidiary office. Over the last eleven years, Nicaraguan scientists supported by SSI have managed the longest continuously running pediatric dengue cohort study in the world, with the aim of understanding the epidemiology, transmission and risks associated with two high priority diseases - dengue and influenza. This program is now recognized as a Center of Excellence in neglected infectious disease research in Central America.