Deckel Maho and Arviem AG announced today that they have successfully completed the monitoring of the delivery of a XXL machine to US in a first pilot phase.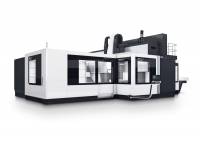 FOR IMMEDIATE RELEASE

XXL machines are produced in Pfronten, Germany, and when ready to be shipped to the client, they get disassembled into roughly 40 different boxes. With the arviem monitoring services, Deckel Maho was able to monitor all boxes in real-time and guarantee the high standard quality by the time the piece parts got delivered to the client. Humidity and shock were two of the major parameters, which were monitored as the machine parts could have been negatively affected by rust or oxidation and by rough handling during land transport or when being loaded.

Managing the dispatching of the boxes was also simplified by knowing, when which boxes have arrived at certain checkpoints. It is for example important to know, if the base-frame-parts have arrived first, before sending the engineering team.

Only real-time information provides the Deckel Maho delivery team with the necessary actionable information to manage the complex dispatching of such 52-ton-machines.

"The arviem supply chain control tower not only helped us to monitor the product quality, but also prevented us in spending lots of money by sending the engineering team at the wrong time to the wrong location", says Kai Guemperlein, Manager XXL Factory.

The arviem control tower combines real-time data reported in by the devices and combines it with other data sources like shipment plan, vessel position, or weather situation and allows complex analysis on ongoing shipments as well as predictive analytics. Shipment specific reporting and diagnostics as well as big-data analysis can all be done via one user interface.

"Thanks to Arviem's services supply chain leaders can ensure, that their initiatives can be seen as engines for growth, for profitability, efficiency and quality. Arviem helps supply chain executives to manage the day-to-day operations, but also look for ways to grow the business," says Stefan Reidy, CEO at arviem.

About arviem AG

Arviem solves the challenges of obtaining visible and intelligent trade by offering real-time end-to-end cargo monitoring services.
As the only full service provider for real-time cargo monitoring in the market, arviem solutions provide exceptionally accurate location and quality condition monitoring of cargo throughout the global supply chain. Arviem enables their customers with the ability to manage major events as they occur throughout chain of custody.

About Deckel Maho
Deckel Maho (DMG MORI SEIKI) has kept supporting the entire manufacturing world as a leading machine tool company. This process has encompassed a long history of development and challenges. DMG Mori aims to be the No. 1 machine tool company. DMG Mori ceaselessly pursues the best technology and service, and seeks to provide new value while unlocking the unlimited potential of machine tools for customers.