DFRF Enterprises, LLC and Daniel Fernandes Rojo Filho are providing light to tens of thousands of homes throughout the regions of Mali and Guiné-Bissau in West Africa, and you won't believe how they're doing it.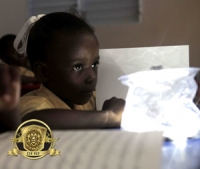 FOR IMMEDIATE RELEASE

DFRF Enterprises, LLC, a holdings company built by Daniel Fernandes Rojo Filho just under two years ago, works within a number of technologically cutting edge industries. While these industries have allowed DFRF Enterprises to grow into a multi-million dollar organization, they have also equipped the company to change lives in a dramatic way in West Africa.

DFRF Enterprises' Solar Division has helped Daniel Fernandes Rojo Filho's humanitarian foundation, DFRF Obbalube Foundation, bring light to tens of thousands of families who did not have electricity, through the use of inflatable solar lamps.

The lamps charge during the day and then at night they are able to light up houses and streets in the region. DFRF Obbaluble Foundation is also making great strides in helping these communities build infrastructure and a school system for the children in the area.

Visit http://obbalubefoundation.com to find out more about DFRF Obbalube Foundation and how you can help give back in a real, meaningful way.