Building off of the momentum of past successful workshops, Edgar Perez is bringing Cybersecurity Boardroom Workshop 2015, seminar specifically designed for board members, senior executives and entrepreneurial business professionals looking for new ways to gain and maintain competitive business advantage in one of the most critical subjects for corporations and governments worldwide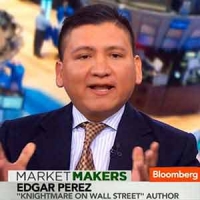 FOR IMMEDIATE RELEASE

The U.S. Commodity Futures Trading Commission (CFTC) yesterday announced the unsealing of a civil enforcement action against UK resident Navinder Singh Sarao. The CFTC complaint charges Sarao with "unlawfully manipulating, attempting to manipulate, and spoofing" the E-mini S&P 500. The complaint had been filed under seal on April 17, 2015 and kept sealed until yesterday's arrest of Sarao by British authorities acting at the request of the U.S. Department of Justice.

According to the complaint, Sarao's "manipulative activities" contributed to an extreme E-mini S&P order book imbalance that contributed to market conditions that led to the Flash Crash on May 6, 2010. The surprising nature of this announcement raises more questions than answers:

• Shall we believe that a single low-tech trader living in a leafy street of a London suburb contributed in any significant way to the Flash Crash?

• Why would the authorities rush to charge Sarao for the biggest financial markets breakdown just before the statute of limitations is expiring?

• Why would professional traders fall for the rudimentary and well-known strategies employed by this individual and let him pocket millions?

• Would this trader be the only market participant who engaged in this type of strategies during the "relevant period"?

• Why is the U.S. Securities and Exchange Commission not joining the CFTC in this action after authoring a joint report about the Flash Crash?

• Was Waddell & Reed behind the unnamed whistleblower in an effort to clean its name and enhance its reputation?

• Why did regulators have to rely on a whistleblower to build the case having had the opportunity to pinpoint this behavior five years ago?

• Is Waddell & Reed getting ready to sue the CFTC and SEC for hundreds of millions of dollars in lost business and defamation?

• Why would regulators let Sarao operate in the markets and engage in similar trading strategies as in the Flash Crash eight more times?

• Wasn't one Flash Crash enough to better police the markets and stop Sarao for good?

These ten important questions are raised by Edgar Perez, author of Knightmare on Wall Street and The Speed Traders; in the latter volume, Mr. Perez dedicated an entire chapter to explain the Flash Crash, in the chapter entitled "The Real Story Behind the 'Flash Crash'". "Who puts in a $4.1 billion order without a limit price? The trader at Waddell & Reed showed historic incompetence. On May 6, when markets were already under stress, the sell algorithm chosen by the large trader and set to target only trading volume, and neither price nor time, executed the sell program extremely rapidly in just 20 minutes. The execution of this sell program resulted in the largest net change in daily position of any trader in E-Minis since the beginning of the year. This was a human mistake. The trader easily could have put a price limit on the order but recklessly chose not to. The sell algorithm performed exactly as it was designed. Now that the regulators know what happened, what are they going to do? Is there any penalty for massively disrupting the market? Are we going to let people throw around billion dollar orders with no understanding of market impact?"

Mr. Perez is bringing Cybersecurity Boardroom Workshop 2015 to Dubai, Hong Kong, Seoul, Singapore, London and New York City. Members of the board, senior executives and entrepreneurial business professionals of public and private firms looking for new ways to gain and maintain competitive business advantage will congregate in each of these cities for inspiring 2-day sessions these upcoming months of April and May.

Mr. Perez is a published author, business consultant for billion-dollar private equity and hedge funds and Council Member at the Gerson Lehrman Group, with subject matter expertise in cybersecurity, investing, trading, financial regulation (Dodd-Frank Act) and market structure. Mr. Perez has presented his workshops in cities around the world, including Hong Kong, Sao Paulo, Seoul, Kuala Lumpur, Warsaw, Kiev, New York, Singapore, Beijing and Shanghai. He contributes to The New York Times and China's International Finance News and Sina Finance.

ABOUT CYBERSECURITY BOARDROOM WORKSHOP 2015

Cybersecurity Boardroom Workshop 2015 (http://www.cybersecurityboardroomworkshop.com) is a must-attend forum for board members, CEOs, CFOs, COOs and executive managers who need to become more educated about cyber security in order to ask questions that are strategic yet granular enough to address company specifics. Cybersecurity Boardroom Workshop 2015 is targeted at corporate decision-makers for whom cybersecurity readiness is a relatively new yet critically important area to be intelligently conversant about.

Adobe, ADP, E*Trade, Fidelity, Home Depot, JPMorgan Chase, Nasdaq, Neiman Marcus, Sony, Target and Wal-mart are just a few of the large companies that have suffered high-profile cyber security breaches. Cybersecurity Boardroom Workshop 2015 is specifically designed for boards of directors and senior executives of public and private firms looking for new ways to gain and maintain their competitive advantages. Business executives with responsibility for IT, finance, compliance, risk management and procurement as well as entrepreneurs and innovators are welcome to add their points of view to the debate.
ABOUT EDGAR PEREZ

Mr. Perez is the author of Knightmare on Wall Street, The Rise and Fall of Knight Capital and the Biggest Risk for Financial Markets (2013), and The Speed Traders, An Insider's Look at the New High-Frequency Trading Phenomenon That is Transforming the Investing World, published in English by McGraw-Hill Inc. (2011), 交易快手, published in Mandarin by China Financial Publishing House (2012), and Investasi Super Kilat, published in Bahasa Indonesia by Kompas Gramedia (2012).

Mr. Perez has been interviewed on CNN's Quest Means Business, CNBC's Squawk on the Street, Worldwide Exchange, Cash Flow and Squawk Box, FOX BUSINESS's Countdown to the Closing Bell and After the Bell, Bloomberg TV's Market Makers, CNN en Español's Dinero, Sina Finance, BNN's Business Day, CCTV China, Bankier.pl, TheStreet.com, Leaderonomics, GPW Media, Channel NewsAsia's Business Tonight and Cents & Sensibilities. In addition, Mr. Perez has been featured on Sohu, News.Sina.com, Yicai, eastmoney, Caijing, ETF88.com, 360doc, AH Radio, CNFOL.com, CITICS Futures, Tongxin Securities, ZhiCheng.com, CBNweek.com, Caixin, Futures Daily, Xinhua, CBN Newswire, Chinese Financial News, ifeng.com, International Finance News, hexun.com, Finance.QQ.com, Finance.Sina.com, The Korea Times, The Korea Herald, The Star, The Malaysian Insider, BMF 89.9, iMoney Hong Kong, CNBC, Bloomberg Hedge Fund Brief, The Wall Street Journal, The New York Times, Dallas Morning News, Valor Econômico, FIXGlobal Trading, TODAY Online, Oriental Daily News and Business Times.

Mr. Perez has been engaged to present to the Council on Foreign Relations, Vadym Hetman Kyiv National Economic University (Kiev), Quant Investment & HFT Summit APAC 2012 (Shanghai), U.S. Securities and Exchange Commission (Washington DC), CFA Singapore, Hong Kong Securities Institute, Courant Institute of Mathematical Sciences at New York University, University of International Business and Economics (Beijing), Hult International Business School (Shanghai) and Pace University (New York), among other public and private institutions. In addition, Mr. Perez has spoken at a number of global conferences, including Cyber Security World Conference 2014 (New York), Inside Market Data 2013 (Chicago), Emerging Markets Investments Summit 2013 (Warsaw), CME Group's Global Financial Leadership Conference 2012 (Naples Beach, FL), Harvard Business School's Venture Capital & Private Equity Conference (Boston), High-Frequency Trading Leaders Forum (New York, Chicago), MIT Sloan Investment Management Conference (Cambridge), Institutional Investor's Global Growth Markets Forum (London), Technical Analysis Society (Singapore), TradeTech Asia (Singapore), FIXGlobal Face2Face (Seoul) and Private Equity Convention Russia, CIS & Eurasia (London).

Mr. Perez was a vice president at Citigroup, a senior consultant at IBM, and a strategy consultant at McKinsey & Co. in New York City. Previously, he managed Operations and Technology for Peruval Finance. Mr. Perez has an undergraduate degree in Systems Engineering from Universidad Nacional de Ingeniería, Lima, Peru (1994), a Master of Administration from Universidad ESAN, Lima, Peru (1997) and a Master of Business Administration from Columbia Business School, New York, with a dual major in Finance and Management (2002). He belongs to the Beta Gamma Sigma honor society. Mr. Perez resides in the New York City area with his wife Olga, son Edgar Felipe and daughter Svetlana Sofia.