Country music artist, Doug Briney has co-written, recorded and released, "Parkinson's Song" to benefit the National Parkinson Foundation. Briney will perform at events for the organization, while donating sales from the single release.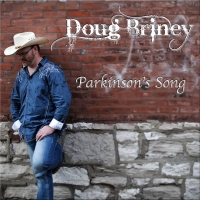 FOR IMMEDIATE RELEASE

MTS Management Group is happy to announce Nashville-based country music artist, Doug Briney and the National Parkinson Foundation have partnered for the release of Briney's "Parkinson's Song." Briney will donate a portion of the single's sales to the organization, and he will perform at live events, benefiting Parkinson's. "Parkinson's Song" was written by Briney and Howie Garoutte, a Parkinson's survivor. It was recorded at SweetSong Nashville with producer, Dennis Money (Dolly Parton, Bill Anderson.) The single is available for preview and download on itunes, amazon, and all major online retailers. It can also be downloaded from Briney's website at http://www.dougbriney.com.

Parkinson's disease is the second most common neurodegenerative disease after Alzheimer's, affecting about one million people in the United States and an estimated four million worldwide. The Center for Disease Control rated complications from Parkinson's disease as the 14th leading cause of death in the United States. The prevalence of the disease is expected to increase substantially in the next 20 years due to the aging of the population in the U.S., Europe and globally, as well as an increase in the age-related incidence of the disease. The economic burden of Parkinson's disease is estimated to be over $14 billion annually in the U.S. — $8.1 billion in medical expenses and $6.3 billion in indirect costs attributed to Parkinson's disease.

For over half a century, the National Parkinson Foundation (NPF) has focused on meeting the needs in the care and treatment of people with Parkinson's disease (PD). NPF has funded more than $189 million in care, research and support services.

In each of their research, education and outreach programs, NPF is dedicated to promoting their passionate belief that the best care is a comprehensive approach that addresses the whole person and the full range of symptoms of the disease, while continuously searching for the next insight that will change the course of this devastating disease. For more information, visit http://www.parkinson.org.

Doug Briney is a Nashville-based country artist and pastor. Signed with Tate Music Group and MTS Management Group, Doug has released two albums, It's All Country and Super Country Cowboy. He is an Award-winning artist who has toured the country from Alaska to Alabama, winning an Independent Country Music Association Award for Best Live Performance and Best Video at the International Music and Entertainment Association Awards. He has appeared at CMA Fest, Hard Rock Cafe Nashville, Silver Dollar Saloon, Nashville Palace, Iditarod (Alaska), and the Alaska State Fair, performing alongside Bobby G. Rice, Georgette Jones, Ashton Shepherd, Billy Yates, Lulu Roman and many others. He is a Musicians On Call artist, performing for patients in Nashville hospitals. Doug is currently climbing the airplay charts with "Pretty Big Deal."