10 Days In A Madhouse - The Nellie Bly Story joins the likes of George Miller's Mad Max: Fury Road to Screen out of competition at the Cannes film festival in the Palais, Cannes on May 17th at 6 PM.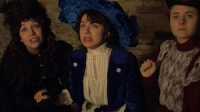 FOR IMMEDIATE RELEASE

10 Days In A Madhouse staring newcomer Caroline Barry, Christopher Lambert ( Hail Caesar!, Highlander, Tarzan), Julia Chantrey (Mean Girls, Mama), Kelly Le Brock (Weird Science, The Woman In Red), and Russian star Alexandra Callas will have its world premiere at the Cannes Film Festival on May 17th at 6 PM at the Palais du Festival.

The movie 10 DAYS IN A MADHOUSE is a true story adapted from the book by Nellie Bly. In 1887, 23 year old reporter Nellie Bly (Caroline Barry), working for Joseph Pulitzer, feigned insanity to go undercover in notorious Blackwell's Island Woman's Insane Asylum to expose corruption, abuse and murder.

Nellie Bly is universally considered one of the most important journalists of all time, who's lifetime career of brave reporting including being the first woman journalist to endure shelling on the front lines in World War One.

Newcomer Caroline Barry won the role chosen from 8,000 hopefuls to play Nellie Bly in a world competition hosted by Youtube and Google. Ms. Barry has recently been signed to multiple pictures and will star as Margaret Dumont in an upcoming biopic of the Marx Brothers.


Christopher Lambert plays Nellie's nemesis, the superintendent of Blackwell's, E. C. Dent. Mr. Lambert burst on the scene in 1980, in the title role in Warner Bros. Greystoke: The Legend of Tarzan, Lord of the Apes (1984). Two years later Lambert originated the legendary character Connor MacLeod, the immortal Highlander (1986), reprised in Highlander II: The Quickening (1991) and Highlander: The Final Dimension (1994). In (1995) he had unbridled success starring in Mortal Kombat, creating a new generation of fans. Amongst his many follow up successful films Lambert starred in Resurrection (1999), Beowolf (1999), The Chauffeur (2008), Ghost Rider: Spirit of a Vengeance (2012). Most recently Christopher filmed Hail, Caesar!, for Joel and Ethan Coen, alongside an all-star cast including George Clooney, Josh Brolin, Ralph Fiennes, Tilda Swinton, Frances McDormand, Channing Tatum, Scarlett Johansson, Alden Ehrenreich and Jonah Hill.

The epic telling of Nellie Bly's harrowing experiences in 10 Days In A Madhouse - The Nellie Bly story was filmed on location in Salem Oregon where One Flew over The Cuckoo's nest was lensed, as well as Anaheim and at TriCoast Studios in Culver City.

The movie was directed by Timothy Hines and scripted by Hines with the collaboration of renowned Nellie Bly historian and best selling author Brooke Kroeger. Produced by Susan Goforth, Donovan Le, Strathford Hamilton, Marcy Levitas Hamilton and Saskia Larsen, will have its US theatrical debut on the day Nellie Bly went into the madhouse, September 25th 2015.

10 Days In A Madhouse will have its US festival premiere at the Bentonville Film Festival May 5th 2015. Bentonville is a new festival  founded by Geena Davis that celebrates women and diversity in the movies. 10 Days In A Madhouse will play in the heart of the Cannes Film Festival at the Palais Du Festival on May 17th at 6 PM, and represented internationally by TriCoast Worldwide.