A new movie 10 Days In A Madhouse - The Nellie Bly story with a general US theatrical release scheduled for September 25th, 2015, will play May 5th at 9 PM to a sold out audience on Nellie Bly's 151st birthday at Bentonville Film Festival.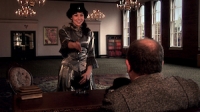 FOR IMMEDIATE RELEASE

Based closely on the book by journalist Nellie Bly, the feature film, 10 DAYS IN A MADHOUSE – THE NELLIE BLY STORY directed by Timothy Hines and starring Caroline Barry, Christopher Lambert (Greystoke Legend of Tarzan, Highlander, Mortal Kombat), Julia Chantrey (Mean Girls, Mama), Kelly Le Brock (Weird Science, The Woman In Red) and Russian actress Alexandra Callas will have its US festival premiere on the famed reporter's 151st birthday at the Bentonville Film Festival May 5th, 9 PM to sold out audiences. Movie trailer here.

10 DAYS IN A MADHOUSE is set in 1887, where 23 year old reporter Nellie Bly (Caroline Barry), working for Joseph Pulitzer, feigned insanity to go undercover in notorious Blackwell's Island Woman's Insane Asylum to expose corruption, abuse and murder. Bly's article led to a transformation in health care and she becomes the first woman in history to write a serious investigative front page news story. Nellie Bly is recognized as one of the most important journalists in history. She is included in a special edition of LIFE Magazine entitled "100 Women Who Changed The World, " on newsstands now.

Nellie Bly was an amazing woman and an inspirational role model in that she believed, "Energy rightly applied can accomplish anything." And starting off with 3 dollars in her pocket, launched a career of brave reporting that put most men to shame. Nellie Bly risked her life to help those with no voice. She was called the fastest woman on Earth for traveling around the world in 72 days to beat the record inspired by Jules Verne's "Around the World in Eighty Days." She was the first woman reporter on the front lines in World War One and she invented the 55 gallon metal drum used to this day in industry throughout the world, including all major oil companies. She gave away her life earnings and free time to orphans as she went. She was born Elizabeth Jane Cochrane on May 5th, 1864 during the Civil War. She took her pen name from a popular song, "Nelly Bly," but the typesetter misspelled it with an "i.e.", and her legend was born.

10 Days In A Madhouse - The Nellie Bly Story has a cast featuring over 90 percent women and includes Jessa Campbell, Natalia Davidenko, Andi Morrow, Susan Goforth, Katie Singleton, Darlene Sellers, Talya Mar, Rachel Bohanon, Saskia Larsen, and Summer Cropper.

Filmed on location in Salem OR where One Flew Over The Cuckoo's Nest was filmed, and Culver City, CA, 10 Days In A Madhouse - The Nellie Bly Story was scripted by Timothy Hines with the collaboration of Renowned Nellie Bly historian, professor at NYU School of Journalism and best selling author (Nellie Bly, Daredevil Reporter, Feminist) Brooke Kroeger. As a journalist, Ms. Kroeger worked for Newsday, serving as UN Correspondent and as a deputy metropolitan editor for New York Newsday. This followed an eight-year stint overseas in the Scripps Howard days of United Press International with postings in Chicago, Brussels, London and Tel Aviv. She was Tel Aviv bureau chief for three years before returning to London to serve as the agency's chief editor for Europe, the Middle East and Africa.

10 Days In A Madhouse, produced by Susan Goforth, Donovan Le, Strathford Hamilton, Marcy Levitas Hamilton and Saskia Larsen, will have its US theatrical debut on the day Nellie Bly went into the madhouse, September 25th.

The Bentonville Film Festival premiering 10 DAYS IN A MADHOUSE is chaired by Academy Award winner Geena Davis, and will be held on May 5-9 in Bentonville, Arkansas. 75 films will be featured as part of the BFF inaugural event. The range will be from studio premiers to indie features and documentaries. The goal of the BFF is to celebrate movies that represent women and diversity of the U.S. population.

Attending the festival are a number of Academy Award winning movie stars including Angela Bassett, Robert Di Niro and Bruce Dern. Also an all star list of big names will judge for awards, including Emilio Estevez – Actor, writer, producer ("The Breakfast Club," "Bobby," "The Way"), Judge Reinhold – Primetime Emmy-nominated actor ("Beverly Hills Cop,"  "The Santa Clause"), Claudia Puig – Film Critic, USA Today, Louis Greth – Senior Director, Movies, Walmart, Bailey Gibson – Buyer, Movies, Walmart, Edie Hand – CEO, Hand N' Hand Advertising, Inc, Author, entrepreneur , actress ("When I Find the Ocean," "Rx for Healthy Lifestyles"), Racquel Harris – Senior Vice President, Marketing, Sam's Club, Bonni Lee – Senior Vice President, Village Roadshow Pictures Entertainment Inc. Like 10 DAYS IN A MADHOUSE on Facebook.