There will be 3.5 billion Google views today about America's most famous women's rights champion, Nellie Bly as the film 10 DAYS IN A MADHOUSE - THE NELLIE BLY STORY has its US festival premiere at Geena Davis' Bentonville Film Festival tonight to a sold out audience.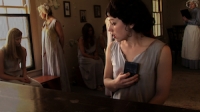 FOR IMMEDIATE RELEASE

Nellie Bly's time has come. Currently a a special edition of Life Magazine is gracing the supermarket news stands entitled 100 WOMEN WHO CHANGED THE WORLD. On the list is what the Library of Congress called, "One of the most influential women in history," Life magazine designates Nellie Bly as the #40 most important woman in history.

And the number one news trend on the planet Earth today is Nellie Bly as Google has blogged about her and created a Doodle for Nellie Bly on it's main search page in recognition of her May 5th birthday.

There are 3.5 billion Google searches everyday. That means people are exposed to discovering Nellie Bly 3.5 billion times today. Hundreds upon hundreds of major news sources have reported on the Nellie Bly Google doodle today and further introduced to world to this most extraordinary woman.

A large number of these articles, in sharing stories of Bly's most amazing life are also reporting on the new 2015 movie 10 DAYS IN A MADHOUSE - THE NELLIE BLY STORY about one of Nellie Bly's most famous exploits.

10 DAYS IN A MADHOUSE - THE NELLIE BLY STORY is having its US festival premiere to a sold out audience at the Bentonville Film Festival hosted by Geena Davis and sponsored by heavyweights such as Walmart, Coca Cola and P&G tonight at 9PM.

10 Days In A Madhouse - The Nellie Bly Story starring newcomer Caroline Barry as Nellie Bly, Christopher Lambert ( Hail Caesar!, Highlander, Tarzan), Julia Chantrey (Mean Girls, Mama), Kelly Le Brock (Weird Science, The Woman In Red), is the famous true story adapted from the book by Nellie Bly. In 1887, 23 year old reporter Nellie Bly, working for Joseph Pulitzer, feigned insanity to go undercover in notorious Blackwell's Island Woman's Insane Asylum to expose corruption, abuse and murder.

Nellie Bly's amazing life has fast become the lightning rod as awareness of women achievements finally gets the major spotlight. Aside from taking on monumental corruption with her use of a new kind of reporting called investigative journalism, she was the first woman reporter to go under fire on the front lines in World War One and amazingly invented and patented the 55 gallon metal drum used by all oil companies today.

The creators, artists and actors who made the upcoming movie 10 Days In A Madhouse - The Nellie Bly Story have been nominated by Society Of Professional Journalists for the First Freedom Award. The award goes to non journalists who have done something exemplary during the past year in the service of the First Amendment.

The stated mission of the Society of Professional Journalists is to promote and defend the First Amendment guarantees of freedom of speech and freedom of the press; encourage high standards and ethical behavior in the practice of journalism; and promote and support diversity in journalism.

The movie was directed by Timothy Hines and scripted by Hines with the collaboration of renowned Nellie Bly historian and best selling author Brooke Kroeger. Produced by Susan Goforth, Donovan Le, Strathford Hamilton, Marcy Levitas Hamilton and Saskia Larsen, will have its US theatrical debut on the day Nellie Bly went into the madhouse, September 25th 2015.

10 Days In A Madhouse will have its US festival premiere at the sold out screening at the Bentonville Film Festival on Nellie Bly's 151st birthday, May 5th 2015.Bentonville Film Festival is a new festival founded by Geena Davis that celebrates women and diversity in the movies. 10 Days In A Madhouse will play in the heart of the Cannes Film Festival at the Palais Du Festival on May 17th at 6 PM, and represented internationally by TriCoast Worldwide.