Daniel Filho, CEO of DFRF Enterprises, is one of the most successful Brazilian entrepreneurs abroad, generating more than 10,000 jobs around the world.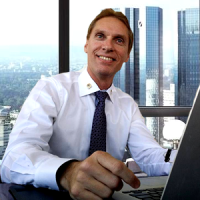 FOR IMMEDIATE RELEASE

DFRF Enterprises LLC prides itself on not only generating financial gain to its members but it also uses 25% of its investment capital to help needy people through its charitable foundation.

The 47 year old entrepreneur has included a charitable branch in every business he has founded and managed. In the 1990s his work in social and philanthropic areas allowed the construction of 409 churches, 47 schools and 19 hospitals around the world.

Daniel Filho has been appointed the title of Brazilian Chancellor to the United States. His reputation continues to grow as his businesses spread across the globe. His holdings include a bank in Switzerland, multiple airlines and a network of hotels and restaurants.

In under a year of operation Daniel Filho's newest company, DFRF Enterprises LLC, has risen to become the flagship of Daniel Filho's many projects. DFRF Enterprises manages its own gold production, and currently pulls over 10 tons per month from its reserves in Africa. It also holds close to 60 mineral reserves in South America, which allows the company to operate without dependence on external resources. The company is an obvious leader in its sector, paying up to a 15 percent return on investments.

Under Mr. Filho's command, DFRF acquired a public Brazilian company and closed out 2014 as one of the strongest companies in the market. The forecast is looking even better in 2015 as DFRF is positioning itself to trade on the public markets, first on the New York Stock exchange and later on the Asian Market. In addition to DFRF Enterprises LLC, another 42 companies are controlled by Daniel Filho in the United States, Brazil, Bahamas, Canada, Hong Kong, Mexico and Mali.

DFRF has a range of members throughout the world. It's member base includes Americans, Arabs, Chinese, Europeans, Hispanics and Brazilians. Of every penny that is invested into DFRF, 25% is allocated to Daniel's charitable Foundation to serve needy people by providing clothing, health and education.

The first communities that have benefited from the Foundation are in Africa where the company holds numerous gold mines.