Fresh from the success of the screening at Geena Davis' Bentonville Film Festival, 10 Days In A Madhouse - The Nellie Bly Story brought an eruption of spontaneous applause from a French and international audience, top industry execs and the media at the screening at the Palais Des Festivals Sunday night in Cannes.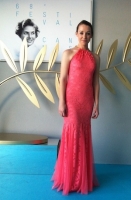 FOR IMMEDIATE RELEASE

Against the backdrop of the beautiful French Riviera 10 DAYS IN A MADHOUSE - THE NELLIE BLY STORY Starring Caroline Barry, Christopher Lambert, Julia Chantrey, Kelly Le Brock, Alexandra Callas and David Mitchum Brown wowed a Cannes audience who gave a thumbs up response at the Cannes Film Festival.

Audiences were riveted to the story throughout the screening of the movie adapted from Nellie Bly's book by director Timothy Hines and Nellie Bly expert and best selling author Brooke Kroeger. 10 Days In A Madhouse - The Nellie Bly Story tells the true life experience of 1887 world famous journalist Nellie Bly going undercover for publisher Joseph Pulitzer into the notorious Blackwell's Island Insane Asylum to uncover institutionalized corruption, abuse and murder.

Jack Kindberg, former president of Sony Studios who attended the screening said, "The movie is emotionally powerful and connects with the audience. Kindberg's wife, renowned Danish director, actress and model Janne Kindberg added, "What a movie. It was FANTASTIC! Congratulations to everybody involved. !0 Days In A Madhouse is my favorite movie here in Cannes so far."

Public awareness of the movie's quality and artistic merits was further strengthened as praise was lavished by an emotional audience at the conclusion of the film at the Sunday night screening.

10 Days In A Madhouse - The Nellie Bly Story now marches toward its September 25th US theatrical release date with screenings later this year at the Venice Film Festival, the Toronto Film Festival and the Shanghai Film Festival to name a few.