On Tuesday, 6, 2015, businessman Daniel Filho, CEO of DFRF Enterprises, signed a partnership agreement with the government of Mali for mineral exploration.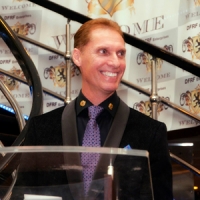 FOR IMMEDIATE RELEASE

African country expects DFRF Enterprises to help them become more viable in the international arena and look to the company's charitable Foundation to offer support and alleviate social problems.

Shortly after signing the contract at DFRF's headquarters in Orlando, Florida, Daniel Filho announced that the companies social contributions would be immediate, given the thousands of African children in need.

"There is no time to wait. Our partnership begins immediately. We know the local needs, so I guarantee that it will not be tomorrow. We will begin today," said the businessman.

The initiative meets one of the entrepreneur's major goals for DFRF. Since its inception, DFRF Enterprises has used 25% of all capital raised for social projects, championed by its charitable Foundation.

Charitable and Social involvement, along with the creation of jobs in African countries, have served as essential components in attracting the interest of local authorities and cultivating direct partnerships.

"We are a country that needs to grow in the international framework. We have social needs and we know we have the potential to evolve. Our partnership with DFRF gives us the certainty of this evolution, especially given the international trade experience of Daniel Filho," said Cheikna Keita, the ambassador of Mali in Brazil who represented the government in signing the partnership agreement.

"This agreement has brought benefits to all," said Daniel Filho. "We will help Mali to grow and simultaneously accelerate their social development. We will not allow this new opportunity to pass us by. Therefore, the first initiatives that will improve the lives of thousands of people are already in action. Hundreds of children from Mali will gain an education with the contribution we deliver."

The ambassador, Cheikna Keita, believes the signed partnership may be a new turning point in the life of the country. "Our population goes through problems and there is now a hope for change," he emphasized.

DFRF Enterprises charitable Foundation was formed with the help of former Formula 1 driver, Emerson Fittipaldi. DFRF believes that having Fittpaldi on board will bolster its charitable efforts, given his many years of social work experience. "The Fittipaldi Foundation already has several projects in movements in various parts of the world. Now, let's perform services that can transform the lives of thousands of people in Mali. The partnership that we signed here enables us to see a more prosperous horizon. Daniel is a serious and committed man and this encouraged me to enter this partnership," he said.

The meeting was held at DFRF Enterprises Headquarters in Orlando, Florida, and brought together many local entrepreneurs who do business with the company. The agreement with Mali was not the only major development during the meeting. The representative of the Guinea-Bissau government, Helmer Araújo, also announced that Daniel Filho would be appointed to take over as honorary consul for the country, in the United States.

"Daniel Filho will become our honorary consul, tasked with the responsibility of establishing business between our country, the United States and other world powers. His International business experience and political penetration make us believe that this measure can and will change the life of our country," said Araujo.

Even before taking office, Daniel Filho had cultivated relationships throughout the United States and Brazil to give Guinea Bissau, a country that has large mineral reserves, economical significance.

Daniel Filho plans to use his flagship company, DFRF Enterprises, to assist Guinea-Bissau with various gold and mineral development projects. There are also plans in place for the company to offer social aid to the country, later this year, through its thriving charitable foundation.