Quickplay Sport, one of the UK's leading retailers of football training equipment has released eCOACH a brand new app which they believe could revolutionise football coaching.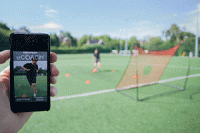 Quickplay Sport's goal is to provide grassroots players, teams and coaches with innovative and value for money products which helps them perform at the highest level. The brand new eCOACH app takes that promise to a whole new level.

- App features 30 easy-to-follow videos
- Targets allow players to progress in stages
- App is free on IOS and Android


Training drills for both individuals and teams are broken down into 30 videos. Each video is based around a particular drill with simple instructions for players to follow.

Passing, shooting, close control, dribbling, volleys and free kicks are all covered

The use of video gives both individuals using eCOACH on their own and coaches using it as an aid a number of advantages. For example demonstrations are correct every time and videos can be paused to allow the drills to be broken down in detail.

Will Parsons, Managing Director of Quickplay Sport, said: "We're delighted to bring our innovative eCOACH app to grassroots football players and coaches. We've worked hard to get it right and we think it is a great addition to our product range. We genuinely believe it could revolutionise grassroots coaching.

"eCOACH is specifically designed to work with products like Quickplay's Spot Rebounders and because it is free it's the perfect addition to any coach's armoury. It even allows individual players to train on their own and progress through beginner, player and pro stages.

"We believe that eCOACH puts the best coach on the market in the pocket of the player and the best assistant ever in the pocket of the coach."

The eCOACH app is available to download for free on iTunes or in the Google Play store.