Focusky Software, Ltd. president, Jason Chen, announced the release of the firm's new Focusky Presentation Software. Available for Mac and Windows operating systems, the software is free to download and provides individuals with an easy and intuitive means to create media rich presentations that offers a higher level of engagement.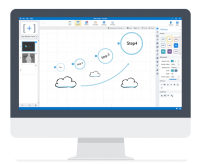 FOR IMMEDIATE RELEASE

The Focusky presentation software is changing the way information is presented, offering a unique alternative to traditional PowerPoint presentations. The software's wide range of capabilities allows individuals to create visual shows videos, demonstrations and presentations that can be shared across multiple types of devices in video or online formats.

The software is appropriate for novices and professionals and requires no specialized knowledge or training. Individuals see the results of their efforts immediately in real time and the software comes with extensive video instructions. The Focusky software allows creations to be saved in multiple formats for output, subscription services help individuals and businesses engage with audiences, and every aspect of presentations can be easily managed.

Focusky presentation software contains more than 1,200 animations and over 5,000 vector images that are royalty free to accommodate a wide variety of uses. Presentations can be published online for easy, anytime access around the globe without the need for viewers to install any special software or apps. Focusky's platform provides free, unlimited cloud hosting and has multilingual capabilities for languages from around the world.

Individuals using Focusky presentation software have multiple options from which to choose when creating their presentations. The animation editor essentially allows people to create and produce their own dynamic movies that can be posted to popular online sites that include YouTube and Vimeo. Showcases can be implemented and embedded in webpages for dramatic effect.

Timelines can be incorporated, along with transitions, rotations, and pan and zoom effects. Individuals can set the duration of each feature and more than 300 professional, built-in templates and themes are included that can be customized. Text versions can also be created that are SEO-friendly and transcripts can be generated for dissemination.

The release of the free Focusky presentation software provides businesses, bloggers, individuals and entrepreneurs with advanced presentation tools that offer a dynamic alternative to traditional presentation software. Focusky software is available for Windows and Mac systems for applications that include presentations, conferences and videos to fully engage audiences and immerse them in the creator's message.

Anyone interested in this news post may also want to learn why Focusky is the best choice for presentation software.

About Focusky Software, Ltd.
Established in 2010, Focusky Software, Ltd. is headquartered in Hong Kong. The firm provides products ranging from digital presentation software to innovative and cost-effective business software and PC utilities.