Allure Party Rentals opens new, larger space in Pompano Beach, FL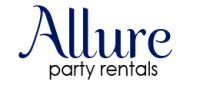 FOR IMMEDIATE RELEASE

Pompano Beach, FL, September 16, 2015– Allure Party Rentals of South Florida has acquired new business space in Pompano Beach, FL. The new space will house over 5000 square feet of party rental equipment, as well as feature a newly renovated showroom. The new showroom and warehouse space will permit the addition of new employees and an improved customer experience.

"The new warehouse and showroom space is a very exciting move for our company. We have now doubled our previous space and will be able to serve a higher number of clientele." – Bruno Maldonado, President

Their new showroom will house several displays of tables, chairs, linens, and tableware items. It will also feature a mock-up table for customer's to create their desired event rental look in office. The showroom will be available by appointment only beginning October 7, 2015. The larger warehouse space will allow for the arrival of several new products. Allure Party Rentals is planning to add hundreds of new chiavari chairs, folding chairs, tablecloths, and tents. Customers will have first-access to exclusive promotions and first rentals of new equipment.

Allure Party Rentals is a party rental company specializing in weddings, parties, and corporate events in the South Florida area. Since their inception they are quickly growing as one of the most popular choices for event rentals in Broward County, Miami, and Palm Beach.