Digital publishing is already popular but the popularity of digital magazine software presented by FlipHTML5 is even extensive, thanks to its cost-effectiveness.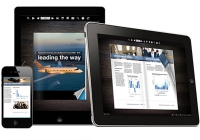 FOR IMMEDIATE RELEASE

Recent announcement about promotional prices from FlipHTML5 is probably one of the most sensational news today. This digital publishing solution provider from Hong Kong, already in news for the far-reaching and outstanding features of its digital magazine software, has once again made news with the new offer in. This offer allows users to access the software at an incredibly low price and enjoy the media rich features in it.

In the business world, price is predominantly seen as a pivotal element in earning recognition and increasing product sale. Many companies conventionally run discount offers to make their brands visible and have products sold. However, FlipHTML5 is a company which already cherishes a noteworthy online presence. It is more of a customer oriented company and so the company's decision to rip prices is only enlarging its user base.

FlipHTML5 Business Head and Director Winston Zhang talks to a correspondent in this regard. He says, "Technological finesse is always the winning edge in IT world. Given the increasing liking towards digitally published magazines and gladly, towards our digital magazine software, we are already reaching out to new clients. However, we care for customers' money and should value their money in every way. It is this attitude in our group that marketing team decided to come up with some lucrative offer like the coupon codes to avail discount. I should say we have made digital magazine making trendy and the trend is now expanding!"

IT world recognizes this company called FlipHTML5 for its world-class and forward-looking solutions. Online magazines have an extra edge in terms of media richness for its impressive graphics and animations. FlipHTML5 designed and developed Digital Magazine Software is much sophisticated and technologically ahead of many others. The company's software has got more famed as it is quite preferred by digital publishers now.

Anyone can get more details by contacting FlipHTML5 on http://fliphtml5.com/.