"Princess Josephine and the Rainbow Dragon" is a beautifully written and illustrated children's book about a princess who one day wakes to a black and white world, and sets out to find the dragon who has taken all of the colors. A joyful book with an excellent moral to the story!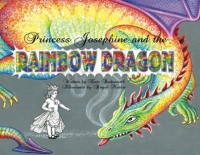 FOR IMMEDIATE RELEASE

New York, New York – December 10, 2015. Boissevain Books, an independent publisher established by the estate of the celebrated author and illustrator, Hilda van Stockum, has published Princess Josephine and the Rainbow Dragon, a new book written by Kate Bodsworth and illustrated by Brigid Marlin. The book, geared to children ages 5 and older, is a delightful story about a strong and determined princess who sets out to find and defeat the dragon that has taken all of the colors from the world. When they meet, the princess finds that the dragon will turn to stone without consuming the colors.

With compassion and intelligence, the princess finds an ingenious solution that will keep the dragon from turning to stone, while restoring the world's colors. Princess Josephine and the Rainbow Dragon is delightful to read, while conveying the joy of color and diversity, and a heroine that is strong, determined and compassionate.

About the Author and Illustrator
The author, Kate Bodsworth, is an established writer and editor based in London. The illustrator, Brigid Marlin, is an accomplished artist, illustrator and writer based in the UK. Her previous books include, A Meaning for Danny, about her son's challenges with Asperger Syndrome, and The Box House, the story of an abused child that is both heartbreaking and inspiring. Ms. Marlin is also the founder of the Society for Art of the Imagination. Both illustrator and author are descendants of Hilda van Stockum. Brigid is Hilda's daughter, Ms. Bodsworth, her granddaughter.

Princess Josephine and the Rainbow Dragon is available at the Boissevain Books Store where you'll find a more extensive description, and sample pages. For more information, including requests for review copies, please contact ellen@boissevainbooks.com.