Paul King, writer and director of the BAFTA winning film, Paddington, was presented with the Raven Award for Excellence in Arts and Education on January 17, 2016 for his insightful film, adapted from Michael Bond's beloved books, exploring the risks and rewards of welcoming a stranger onto our shores and into our homes.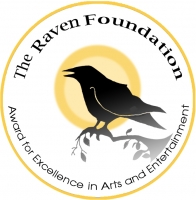 FOR IMMEDIATE RELEASE

The Raven Award has been awarded since 2010 to an artist whose work challenges the myth of the dangerous outsider, which is often used to justify violence. Raven Award winners reveal the process by which peace becomes a real possibility as a scapegoat is transformed from dangerous other to beloved member of the community. Previous winners include Lookingglass Theater's Heidi Stillman for her stage adaptation of Dostoevsky's The Brothers Karamazov, composer Stephen Schwartz for his music and lyrics for the Broadway musical Wicked, sculptor Indira Johnson for her Ten Thousand Ripples peacemaking project, documentary filmmaker Kevin Miller for the film Hellbound?, and author Anthony Bartlett for novel Pascale's Wager: Homelands of Heaven.

Raven Foundation Co-Founder Suzanne Ross explains the selection of the movie Paddington, "The very journey that the Brown family takes with Paddington is summed up perfectly at the end of the film: 'This family needed that wee bear every bit as much as he needed us.' This very neediness or vulnerability turns out to be the essential ingredient for the transformation of the human heart to occur."

Paul King, a lifelong fan of Michael Bond's Paddington books, wrote and directed the 2015 live action adaptation of Paddington Bear. Nominated in two categories by the British Academy of Film and Television Arts (BAFTA) in 2015, Best British Film and Best Adapted Screenplay, it won Best Film in the 2015 Children's BAFTA awards. Paddington also received the Empire award for Best Comedy in 2015. The film's executive producer, Rosie Alison, declared it was a notable box office success around the world.

"To be honored for working on a film starring one of the most treasured children's characters in England doubles the delight of the creative journey Paddington and I took together. At some point in their lives, everyone has felt like an outsider. Which is why I think the little bear, lost and alone, has made generations of reader's hearts go out to him," stated award recipient Paul King.

Raven Foundation is committed to making religion reasonable, violence unthinkable and peace a possibility by spreading awareness of the transformative power of mimetic theory. Our goal is to foster peaceful individuals and harmonious communities that will reject scapegoating and violence as ways to form identity and achieve real and lasting peace. Our primary outreach is through blogs that provide social commentary on current events, politics, religion, scandals, and popular entertainment.

Paul King began his career in the theatre, where he conceived and directed a number of comedy shows, collaborating with Richard Ayoade, David Mitchell, Robert Webb, and Noel Fielding, among others. In 2001 he won the Perrier Award at the Edinburgh Festival, which led to various television commissions including the wildly successful cult series The Mighty Boosh, for which Paul was BAFTA nominated and went on to direct for three seasons. In 2009 Paul wrote and directed his first feature film, the brilliantly inventive imaginary road trip Bunny and the Bull. This was followed by the Little Britain BBC Christmas Special Come Fly With Me (the first of a series), which Paul directed in 2010.