Urban Air set to open an Adventure Park in Fort Worth, Texas with Sky Diving, Ropes Courses and Indoor Roller Coaster along with its standard Trampoline and Warrior based activities.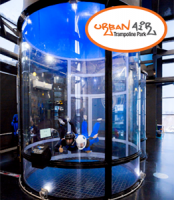 FOR IMMEDIATE RELEASE

The lease is signed and plans are under way to bring a new Indoor Trampoline & Adventure Park to 8747 Harmon Road, Fort Worth, Texas 76177.

With a signed lease and development under way, Urban Air Trampoline Park will be shaking up the indoor family entertainment industry with an Adventure Park concept never seen before. This new store located in the Alliance Corridor across from the Presidio Junction development at 8747 Harmon Road in Fort Worth, Texas will feature Indoor Sky Diving, an Indoor Roller Coaster, Interactive Rock Climbing, and Ropes Courses along with Urban Air's traditional Trampoline, Tubes and Warrior attractions.

"We are excited to open our new flagship store in Fort Worth Texas. We were the first to bring trampoline parks to this area and as a market leader it seems fitting to launch a brand new product where it all began for Urban Air. We are committed as ever to bringing cutting edge attractions to our loyal customers that are safe, affordable and fun for the entire family. We try to develop facilities that create lasting memories for customers of all ages and this game-changing facility in Fort Worth, Texas is raising the bar to a whole new level." Said Michael Browning, CEO, Urban Air Trampoline Parks.

Urban Air plans to begin rolling out its new Adventure Park stores across the country in 2016 starting with locations across Texas. "We have 12 new flagship Adventure Park locations under contract and in development in Dallas Fort-Worth, San Antonio and Austin, Texas. These new stores further separate us from the competition and allow us to obtain better real-estate in areas that may already have a trampoline park." Said Michael Browning, CEO, Urban Air Trampoline Park.

As a leader in Family Entertainment, Urban Air has won numerous awards and accolades that have made them the number one choice by families.



Best Jump Place for Kids Birthday Parties DFW Child Magazine


Best Gym In America For Kids by SHAPE Magazine


Best Kids Birthday Parties by About.com


Best Trampoline Parks by DFW Child Magazine


Best Place To Take Energetic Kids by Fort Worth Child Magazine


Reader's Choice Best Children's Birthday Parties by Star Community Newspapers



The Urban Air Fort Worth location will be suitable for all ages and provide great customer service, award-winning kids birthday parties along with customizable special events to meet any budget. Set to be open 7 days a week, customers will have the option to participate in Fitness Classes, Sky Diving Classes, Rock Climbing Clubs, Dodgeball Tournaments, Teen Nights, Open Jump and much more.

A full-service café and parents lounge will provide great food, free wifi and a relaxing environment where parents can get some work done or watch their favorite sporting event.

Urban Air will hire 45 residents for its newest location in Fort Worth, Texas and will begin accepting applications soon. For more information on Urban Air and its latest location in Fort Worth, Texas please visit www.urbanairtrampolinepark.com

URBAN AIR TRAMPOLINE & ADVENTURE PARK

Urban Air is the Nation's #1 destination for family fun featuring a variety of activities perfect for all ages. Urban Air Trampoline Park is the perfect venue for kids' birthday parties, church events, corporate gatherings or a day out for some family fun. For more information on the company and franchising opportunities please visit www.UrbanAirTrampolinePark.com