Amigos is Seeking Volunteers for Exterior Home Repair and Yard Cleanup Project to Kickoff May 7, 2016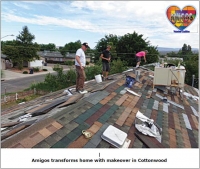 FOR IMMEDIATE RELEASE

January 27, 2016 - Cottonwood, AZ -- Amigos Del Verde Valley Volunteer Coalition today announced its all volunteer, 2016 Spring-to-Fall ADOPT-A-BLOCK revitalization/transformation project. Amigos improves the quality of life by repairing and maintaining homes at no cost for low-income elderly and disabled homeowners.

Through the work of volunteers and with the support of public and private-sector initiatives, Amigos enhances the quality of life for deserving seniors, to build a brighter future for the Verde Valley.

To give homes "a new leash on life", up to 100 volunteers will volunteers with Amigos will gathertheir tools and roll up their sleeves to transform up to fifteen homes and give low income residents the helping hand they need.

The Adopt-A-Block project presents an exciting opportunity for community volunteers to help revitalize and transform up to 15 homes in about two city blocks, in addition to military veterans' homes, from yard cleanups to painting and exterior home repairs starting in Spring 2016 and ending on October 15, 2016. Amigos volunteers and partnering organizations will focus on issues that help to make a home cleaner, healthier, safer, to ensure the homes are more attractive and well maintained.

Working in teams of individuals from ages 12 and up, local businesses, nonprofits, students, faith and community organizations can choose to volunteer with projects like yard cleanups and maintenance to painting, making decorative flower pots for each of the homes – to show the neighborhood is 'blossoming', assisting with minor exterior home repairs, and constructing or repairing wheelchair ramps and mobility aids for low income residents. A few of Amigos' 2016 participating partners and sponsors are Home Depot; Vetraplex/Vets4Hire, Hales Roofing, Mainplace Flooring, Country Bank, Office Depot and real estate organizations.

Amigos is now seeking volunteers who wish to help, sponsors and donated materials for the 2016 Amigos Adopt-A-Block neighborhood makeover and veterans home repair and renewal project.

ABOUT AMIGOS DEL VERDE VALLEY VOLUNTEER COALITION

Amigos del Verde Valley Volunteer Coalition, founded in 2013 is dedicated to providing urgent exterior home repair services and landscaping services to very low income, elderly and persons with disabilities at no cost. We are committed to serving the most vulnerable population -- the lowest income elderly folks in Clarkdale, Cottonwood and the Verde Villages, to help safeguard them from injury. Many of Amigos' clients are disabled or paraplegics, legally blind, and suffer from several other serious medical conditions. They're unable to help themselves and cannot afford to repair their homes. Amigos is the only organization in the Verde Valley providing these services at no cost in the cities of Cottonwood and Clarkdale, and the Verde Villages.

Our services ranges from fixing doors and locks to providing yard and fence repairs, yard maintenance, wheelchair ramp repair and construction. Amigos' volunteers are all U. S. veterans, including carpenters. In 2014, the Amigos all-volunteer organization successfully helped improve the quality of life for 32 very low income homeowners in Cottonwood, Clarkdale and the Verde Villages at no cost. For info, call (928) 639-1666 or go to www.amigosdelverdevalley.org.

EVENT ORGANIZERS: Sherry Twamley, Executive Director and Mal Otterson, Amigos del Verde Valley's Volunteer and Resources Manager.