Locally owned and operated Erwin Marine Sales is pleased to announce the addition of Centurion, Supreme, and Nautique to their already prestigious line of boats. All three brands will be sold in the Chattanooga locations with Centurion and Supreme offered at the Huntsville location.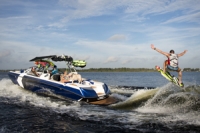 FOR IMMEDIATE RELEASE

CHATTANOOGA, TN – Erwin Marine Sales currently operates boat sales, service and storage facilities throughout the Tennessee River Valley System including locations on Chickamauga Lake by the Dam, Chattanooga's premier waterfront location and on Guntersville Lake at Honeycomb Creek near Huntsville, Alabama. No matter if you're above or below the Chickamauga Dam, Erwin Marine has a location nearby to serve you.

"Our customers and employees have become more active boaters." says Patrick Deal, Vice President - GM. "We all want to do more with friends and family. These new boat lines give boaters the opportunity to wake surf, wakeboard, ski, tube and just hang out on the water more."

These boats will be debuting during the Chattanooga Boat and Sport Show February 4-7, 2016 at the Convention Center.

All three brands are part of the Correct Craft Family and have been a competitive part of the industry for more than 40 years. Each brand offers different price points and features to better serve a wider range of boating customer. We have the market covered, from the simplicity-styled Supreme to Centurion, World Champion Towboat, and the Nautique G23, "Wake World Riders Choice" Boat of The Year.

ABOUT ERWIN MARINE SALES

Erwin Marine Sales began in Chattanooga, TN in 1978. Now with marinas throughout the southeast, Erwin Marine Sales continually strives to offer the boating community the best brands in the industry like Sea Ray, Meridian, Bayliner, Harris Pontoons, Nautique, Centurion, and Supreme. Erwin Marine Sales also offers pre-owned boat sales, factory certified service and marina storage in their four marinas: Chickamauga Marina, Gold Point Yacht Harbor, Sunrise Marina, and Erwin Marine Riverfront. Erwin Marine Sales is the recipient of many local awards, including a Best of the Best for several years in a row.