Free, lightweight technology for accessing shipment tracking data from any major shipping carrier. Businesses use shipment tracking information to build tools to increase customer retention and sales.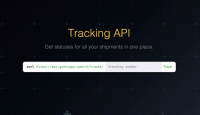 FOR IMMEDIATE RELEASE / PRURGENT

Shippo (https://goshippo.com/), the platform that connects ecommerce businesses with multiple shipping carriers from one location, announced a new product with the ability to track packages sent by any major shipping carrier. Businesses can easily access current and historical shipment tracking statuses for all their packages through a single application program interface (API). With easy access to shipment tracking data, businesses can improve customer retention and sales by providing up-to-date shipment data to customer support teams or directly to customers. To learn more about Shippo and the Tracking API, visit https://goshippo.com/tracking-api/.

"40% of an ecommerce store's revenue is created by just 8% of their customers - that's how important return customers are. Businesses like Amazon have truly optimized for that with their extraordinary self-serve shipping experience." said Laura Behrens Wu, CEO at Shippo. "With Shippo's new Tracking API, any business can utilize their shipping data to create a unique experience and wow their customers."

There are currently no other interface designed to be as simple and lightweight as Shippo's Tracking API. The technology is currently available for free, with no account registration required. Businesses can use it to build tools to:
Provide customers with both current and historical shipment status information directly in from the storefront.
Sync shipment information with existing apps like Facebook messenger, Gmail, or text to keep customers up-to-date on the status of the shipment.
Build dashboards for customer support teams to make it easier and faster for them to access accurate shipment information.

Businesses such as Mercari, Memebox, GoDaddy and Weebly currently use this technology to delight customers. Shippo has also put the Tracking API into the hands of their community who have used it to build a variety of shipment tracking tools.

"Building Shippobot (http://r.goshippo.com/shippobot) was very easy with Shippo's Tracking API. It took nearly no time to integrate and it worked seamlessly. One simple request gave me exactly the information I needed in a human-readable way." said Alex Miller, Founder of TexTurner, the human translation bot for Slack and organizer of SF's messaging meetup, Messaging 2.0.

The Tracking API is currently available for free, no account registration required. To learn more about the product and it capabilities, visit https://goshippo.com/tracking-api/.

About Shippo

Shippo is a shipping platform that connects businesses with multiple carriers from one location. Whether it's an ecommerce storefront, warehouse, marketplace, or a platform, Shippo gives businesses the flexibility to work with multiple carriers instantly. Shippo powers thousands of businesses around the world including Shyp, Mercari, GoDaddy, Weebly, and more. See how you can access affordable shipping by signing up for free at https://goshippo.com/ .