Employment Group now has a new name, EG Workforce Solutions, and has expanded its products and services.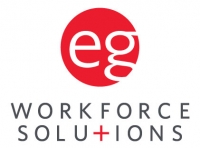 FOR IMMEDIATE RELEASE

BATTLE CREEK, MI — May 3, 2016 — EmploymentGroup, a preeminent staffing company in the Midwest since 1958, is proud to announce its name change to EG Workforce Solutions. Building off its successful foundation, helping people succeed, EG Workforce Solutions has expanded its products and services offerings to span the entire talent acquisition and management continuum.

EG Workforce Solutions uses a proprietary consultative approach to bring expertise within workforce planning, solution design and total talent management oversight to its clients. "Our clients value our consultative methodology and co-ownership model of their unique talent challenges. They see results that favor their bottom-line," says CEO Mark Lancaster, "EG Workforce Solutions is more descriptive of who we are today."


EG Workforce Solutions is one of the leading talent solutions companies in the Midwest and counts many of the region's largest, most recognizable brands as its customers.