NCDOT is first to launch an online interactive portal to collect public input on priorities, projects and concerns to guide the development of the State's 10-year transportation plan.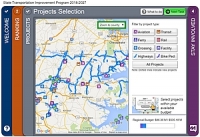 FOR IMMEDIATE RELEASE

Raleigh, North Carolina, July 8, 2016 – NCDOT is the first DOT in the US to launch a new online interactive portal specifically designed to allow the public to provide input on priorities, projects and concerns to guide the development of the State Transportation Improvement Program (STIP). This portal complements the more traditional public meetings in an effort to broaden public input by allowing the public to provide input online in only a few minutes.

NCDOT selected MetroQuest in order to provide an interactive experience that would increase the level of public input to guide their planning process. Jamille Robbins, Public Involvement Group Leader at North Carolina Department of Transportation said, "We are very excited to leverage MetroQuest to collect public input to inform our State Transportation Improvement Program. We chose MetroQuest because it represents the state-of-the-art in online public engagement and it's quickly becoming clear why. We have already collected more public input than ever before and the momentum continues to build."

MetroQuest has been used extensively by agencies and planning firms to support a wide range of transportation projects. At the request of NCDOT, MetroQuest developed enhanced functionality to support their unique STIP process. Dave Biggs, Chief Engagement Officer at MetroQuest said, "We are thrilled to see the thoughtful and creative way that NCDOT is using MetroQuest to broaden public involvement to help shape their STIP. In the past collecting meaningful input from a broad demographic on these types of projects has been challenging. We anticipate that other DOT's will be following this process closely since STIP's are a required federal process in each state."

The NCDOT interactive portal will be collecting public input until 5pm on July 22nd. More information about the MetroQuest can be found here.

About MetroQuest
MetroQuest is the leading supplier of public involvement software for planning projects. With clients throughout the United States and Canada, MetroQuest is focused on helping planning agencies engage thousands of participants and collect informed community input to support their plans.

About NCDOT
The N.C. Department of Transportation is one of North Carolina's largest state government agencies, with nearly 12,000 employees. NCDOT works hard to provide high-quality transportation for travelers throughout North Carolina, including highways, rail, aviation, ferries, bicycle and pedestrian facilities, and public transit.