Land Gallery in Portland, Oregon presents an all-female exhibit curated by artist Susie Ghahremani.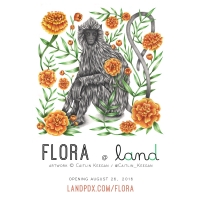 FOR IMMEDIATE RELEASE

Art Show Reception: Friday, August 26, 2016: 6 - 9 PM
Art Show Event dates August 26 - October 9, 2016.
Free to attend, all ages. Open every day 10 AM - 7 PM.


Land – eclectic and beloved gallery and shop on N Mississippi Ave – presents an all-female exhibit curated by artist Susie Ghahremani.

FLORA gathers artwork by female artists working in analog media such as graphite, wood, and fabric. By emphasizing works in tactile media, each artist departs from the digital work commonly demanded of and exhibited by contemporary illustrators to bring texture and intimacy to their original works.

The show is open to the public daily from August 26 - October 9, 2016 for view and sale.
A wine reception will be held on Friday, August 26th at 6 PM.

FLORA hosts an eclectic combination of fine artists, illustrators, designers, and crafters from Chile and Vancouver to Brooklyn and Los Angeles including acclaimed Portland artists Julianna Bright, Meg Hunt, Anisa Makhoul, Betsy Walton, and Courtney Knight.

Contemporary New York artist-illustrators Coral Silverman, Dingding Hu, Caitlin Keegan, and Jing Wei bring signature styles and fresh experiments pivoting from their work in New York art galleries and the pages of the New York Times.

Award-winning children's illustrator Maya Hanisch (Chile), sculptural artist Hiné Mizushima (Canada), watercolorist Amy Ross (MA), stationer Keiko Brodeur (CA), illustrator Shirley Jackson (UT), miniaturist Evah Fan (CA), and curator-illustrator Susie Ghahremani (CA) offer a wide range of approaches to the theme of the show: foliage.

Land Gallery is located in the historic Mississippi Neighborhood of Portland, Oregon. Run by the owners of the iconic indie shopping website buyolympia.com, Land Gallery features new, original artwork by independent and self-made artists.

Land Gallery is located at 3925 N. Mississippi Ave in Portland, OR, and is open daily from 10 AM - 7 PM.