Stand2Learn Founder and Texas A&M Researcher, Dr. Mark Benden, releases latest research showing standing desks create a lower BMI trajectory for elementary students. Over 190 students were followed from third to fourth grade. The results show that stand-biased desks like Stand2Learn produced a 5% difference in BMI percentile change over two years versus those students in traditional seated desks.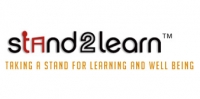 FOR IMMEDIATE RELEASE

"Research around the world has shown that standing desks are positive for the teachers in terms of classroom management and student engagement, as well as positive for the children for their health, cognitive functioning and academic achievement," said Mark Benden, Ph.D., CPE, an associate professor in the Department of Environmental and Occupational Health at the Texas A&M Health Science Center School of Public Health and an author of the study. "It's literally a win-win, and now we have hard data that shows it is beneficial for weight control."

High BMIs are linked to a plethora of health issues – diabetes, heart disease, stroke, cancer. In order to combat this childhood epidemic, movement is the key. "Sit less, move more," Benden said. "That's our message."

"As parents, we are inundated with ways to improve the health of our children – better food choices, less digital device time, more exercise. It's a daunting task with so many parents working, chauffeuring and trying to be actively involved in the multitude of school activities," said Michele Klumb, Stand2Learn Vice President and mother of 6. "Having a standing desk at school is simple and effective for health improvements while also improving student academics! It's a no brainer."

Stand2Learn President, Mack Westbrook stated, "All of our research findings are pointing to a healthier student, I'm confident standing desks will become the #1 tool in every classroom for both health and learning!"

Stand2Learn is the leader in research based designs for standing student desks. Research proves that standing height desks not only improve student's health by increasing calorie burn rates by 20% but also improve a student's engagement time by 12%, i.e. test scores. Now standing desk research shows an unheard of decrease in BMI percentile. A Health Focused Desk Helping Students Focus!