Modern Art and Star Trek Fans Have 4 New Prints to Add to Their Collections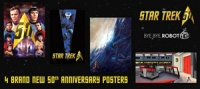 FOR IMMEDIATE RELEASE

Austin, Texas – September 5, 2016 Bye Bye,Robot today is launching four new Star Trek prints. Comprising this release are four new artworks specially created for the 50th Anniversary of Star Trek.

The first of the anniversary designs was created by returning artist Cliff Cramp. His 18"x24" sized "TOS 50th Crew" poster shows a group lineup of the iconic crew of the Original Series. An ethereal view of the USS Enterprise behind the crew portraits, the transporters operating below, and the use of vivid colors serve to create a bold image commemorating this momentous anniversary of Star Trek.

The second piece celebrating the 50th Anniversary was created by returning artist Jeff Foster. Titled "Exploring the Unknown," his 18"x24" sized, predominantly blue-toned, vision of the USS Enterprise gliding through uncharted territory toward a lighted section of space represents the exciting sense of exploring the unknown that was featured so greatly throughout the entire series. Foster's unique style of using only a palette knife (no brushes) on his originals may also be seen in his depiction of the 50th Anniversary logo in the lower corner of the design.

The third piece in the 50th Anniversary group is by returning artist Mark Brayer. His distinctive style is noticeable immediately with his strong use of graphic shapes and illustrative linework in the detail. The balance between the ship and the commemorative logo draws the viewer's eye all the way through this design honoring the ideas, views, and long-lasting appeal of the show. This 16"x18" print entitled "ST 50" is a variation on his book-cover style offerings.

The newest artist working with Bye Bye Robot, David Owens, created the fourth 50th Anniversary print, "The Bridge." At 12"x24" this new design offers a wide view of the USS Enterprise bridge from an angle that is rarely seen. This scene is framed by the bold red, yellow, and blue colors of the TOS bridge and its structural elements. Bye Bye, Robot Co-Founder Charity Wood noted, "Being without crew, this image allows the viewers' imaginations to create the story of this piece. It allows for endless possibilities of what might happen next and the anticipation of seeing the crew rush in through the turbolift doors at any moment."

Under license by CBS Consumer Products, each of the new art prints are printed on acid-free heavyweight coverstock and are available for $25 each. They are available in the U.S.A. for purchase, beginning today, from byebyerobot.com at the price listed above, plus shipping.

™ & © 2016 CBS Studios Inc. STAR TREK and related marks are trademarks of CBS Studios Inc. All Rights Reserved.

# # #

About Cliff Cramp

Cliff Cramp is an artist and educator, working more than full time at his craft. He works professionally, creating artwork for many different avenues including; animation, film and products. All the while, being a Professor of Illustration in the California University system, training up a new bevy of artists every year.

About Jeff Foster

Jeff Foster is a Southern California artist who's been working in illustration and painting for the past 17 years. Receiving his Bachelor's Degree in Illustration from California State University Long Beach, Jeff shows his work throughout Southern California while bolstering his list of private collectors.

About Mark Brayer

Mark Brayer is a full time illustrator and cartoonist with his own studio, Lightspeed Studios, and has been working in the field for over 25 years. He has created a vast amount of art for greeting cards, comic books, illustrated characters, book covers and illustrations, magazines, corporate logos and branding, websites and graphic design. His unique style and versatility has led to a wide spectrum of endeavors.

About David Owens

David Owens is a full time illustrator and painter based in New York. He began his career as a graphic designer and now focuses on illustration for his clients among whom are magazines, universities, retailers, in-house marketing, advertising agencies, and publishers.

About Bye Bye Robot, LLC

Founded in 2011 by Charity and Chris Wood, Bye Bye Robot is an independent publisher of art. Currently, they are a licensed seller of original works of art based on all of Gene Roddenberry's live action Star Trek™ TV series plus Original Series and Next Generation movies. Bye Bye Robot is dedicated to creating deeply immersive, visually spectacular pieces of art that will amaze and inspire viewers for generations.