Adds Intelligent Merchandising, More Like This, and Save the Sale Features to Sentient Aware™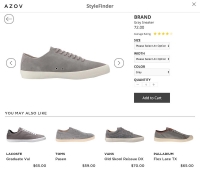 FOR IMMEDIATE RELEASE

SAN FRANCISCO, Calif. – September 21, 2016 – Sentient Technologies, the world's leader in distributed artificial intelligence (AI) and a pioneer in intelligent commerce, today announced it has added several new features to its flagship retail product, Sentient Aware. Expanding on Aware's AI-powered personal shopping platform, these new features give multi- and single-brand retailers even more tools to win more customers and delight their shoppers.

Sentient Aware creates a visual conversation between shoppers and a retailer's catalog to provide instant recommendations of products they'll want to buy, similar to the way a sales associate in a physical store would help customers find the products they love. Aware's new features reinvent the personalization tools online retailers depend on every day, taking the AI magic from Sentient's flagship product and infusing it into other personalization features, allowing retailers to leverage AI at every step of the customer journey.

"Retailers are increasingly embracing AI to transform their businesses," said Andy Narayanan, VP of Intelligent Commerce at Sentient Technologies. "Aware's expanded feature set means AI can power every moment of the customer journey, improving product discovery, conversion, remarketing, and, ultimately, business performance."

Aware's new features open up new avenues for enhancing the customer journey through artificial intelligence. Here are the four new features:

Intelligent Merchandising

Retailers can now use Sentient Aware to ensure that the product listing pages their shoppers see -- whether on the home page or in any product category -- are personalized in the moment to each individual shopper. Able to understand shopper intent from both current and previous shopping sessions, Aware delivers a much more relevant set of products right when customers enter the online store, and can update this listing as they continue to shop on the site.


More Like This

https://www.youtube.com/watch?v=17R2XR3fzqg&feature=youtu.be

Aware's new "More Like This" feature gives retailers the ability to offer similar products in-the-moment, all based on just a single product image. Unlike other systems that require historical data to make recommendations, Aware analyzes the image and immediately suggests "More Like This" so users can find similar products without the hassles of starting a new search or refining their current search with facet selections. Instead, Aware simply understands the product at deep, detailed level and makes sure shoppers see products that match their personal style.

Save the Sale

Aware's new "Save the Sale" feature uses AI deep learning models to surface highly desirable products when a shopper's preferred product isn't currently available. It uses in-the-moment customer behavior and shopper preferences such as color and size to recommend the closest possible styles, allowing for companies to still earn a transaction from their shoppers in out-of-stock or not-quite-right situations.

AI-Powered Personalized Email Campaigns

Sentient's new remarketing feature allows retailers to leverage each click (or tap) that a buyer has made onsite to suggest similar products for truly personal email remarketing. Because Aware treats each shopper and each interaction as a unique journey, every email can offer genuinely personal recommendations instead of suggestions based on buyer demographics or "users like you." And it's as simple as hooking up to Aware's existing API.

New Models for New Verticals

Sentient has also trained intelligent AI models for a host of new fashion verticals. In addition to using Aware to help shoppers discover and buy shoes, dresses, and other fashion products that are right for them, retailers can now use Aware to help shoppers get to the watches, sunglasses, and handbags that match their personal style..

--

Sentient Aware launched with Canadian retailer SHOES.COM, with more launches with major online retailers, including both single brands and multi-brand retailers, forthcoming.

To find out more about Sentient Aware either stop by our booth (LP18) at Shop.org or take a look at our product page.