AnyFlip is thought as the significant PDF to flipbook tool for content marketing. It adds vivid ways to display and spread the content, which is important for publishers and marketers.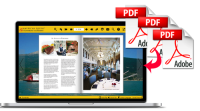 FOR IMMEDIATE RELEASE

With the same purpose of bettering man's standard of living and reducing man's work load in mind, AnyFlip, a reputable technology company introduced well-developed and easy to use PDF to flipbook tool—AnyFlip. Basically, this PDF to flipbook converter is cross-platform software that is used for content representation.

AnyFlip "allows a user to publish materials online, while providing a great look and making it available on a variety of platforms." This software also comes along with other important features that can help a common user to achieve a great content representation and marketing. Some of the features include the following:

- Allows for interactive content to be displayed on any device smoothly.
- Provides realistic page flip reading experience to readers.
- Helps to expand the readers' group since it is also mobile friendly.
- In the world of business, AnyFlip's PDF to flipbook converter enables marketers to add economic elements to the flipbook and thus, customers can buy without leaving the page.
- AnyFlip allows for social network sharing which can bring about a better and more exposure to a content published on its platform.

AnyFlip PDF to flipbook tool allows for readers' group expansion. People are increasing switching to smartphones. Smartphones allows for easy access to the internet without having to be physically present in front of a computer or laptop. Hence, the switch to smartphones can be attributed to its portability and high level of convenience they provide. This calls for the need for publisher to publish contents readily available on mobile devices. To achieve this essential purpose, AnyFlip is created to make contents published on its platform to be available both online and mobile devices. In a nutshell, AnyFlip's PDF to flipbook converter enables readers to view digital contents published on its platform on mobile devices too and thus, enlarging the number of readers that can access the digital content at a time.

AnyFlip's PDF to flipbook tool enables content publishers to create and publish wonderful content on its platform. It is indeed a powerful tool for publishers to create the attractive content for business and marketing. To free download or convert PDF to flipbook online, just go to AnyFlip homepage.

About AnyFlip

AnyFlip is the powerful PDF to flipbook tool for building interactive content. It can convert PDF to page flip publication in minutes. Also, it provides the HTML5 flipping book publishing platform which users can read, upload and share publications.