What better way to enjoy the season than to go on a northern lights tour in Iceland? It's the perfect time to enjoy some winter trekking and northern lights hunting in Iceland.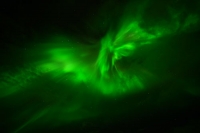 FOR IMMEDIATE RELEASE

Leading tour company, TREK Iceland, offers a variety of Iceland winter hiking options for visitors and one of the more special experiences is the northern lights tour. If you've always wanted to see the spectacle firsthand, this is your chance to do a northern lights trekking tour that brings you closer to nature!

The TREK Northern Lights trekking tour takes place over four days and carries you to some of Iceland's most unique and breathtaking sights. The journey will take you along the southern coast of Iceland. You'll have a chance to take a walk on the slowly moving Sólheimajökull glacier, you will get to drive through rivers in a super outfitted jeep, you'll get to snowshoe through the wintry landscapes of the beautiful Thórsmörk valley, along the Laugavegur trail, and through the Fimmvörðuháls region, which is the home to the famous Eyjafjallajökull vocano.

Not only will you be experiencing the breathtaking sights of the area, but you will have the opportunity to see it all under the green (and sometimes purple and white) glow of the northern lights. Also known as the Aurora Borealis, this natural phenomenon caused by electromagnetic particles from the sun interacting with earth's atmosphere, is best witnessed in the winter months because of the extended periods of darkness. The northern lights dance and shimmer, appearing suddenly and lighting up the whole sky. On this tour, you'll have a chance to see them without the interference of city lights!

The experienced guides at TREK Iceland make it their priority to provide a safe environment for hikers, while at the same time sharing their knowledge about the history and geology of the land. As one of the premier companies leading trekking tours in Iceland, TREK Iceland offers year-round trips throughout the country, catering to all skill levels. Learn more about the northern lights tour, as well as other trekking packages!