Everyone should have a seat organizer for putting baby's toys, water bottles in car, the AOSO JRS-212 car organizer is waterproofing, tough and durable, no industrial taste, and it will not harm body health.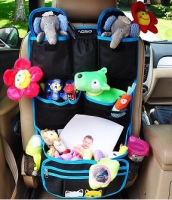 For family, one great car organizer is essentials, especially for family with kids. AOSO new released JRS-212 waterproof backseat car organizer to make your life simple and easy. This organizer with 13-pocket detachable pocket made out premium waterproof material; you can store sports stuff, dog supplies, tools, toys, and emergency equipment in the organizer. It will keep the backseat or trunk of your car clutter-free.

The stitching is great, nothing is off or coming unraveled. Fabric is thick and sturdy, also waterproof (that will come in handy during winter) and it is easy to wipe clean. the pockets are big enough to hold your stuff.the holders for drinking is on the side which fits a good sized water bottle.on the bottom back-side of the organizer has an adjustable bungee strap with a buckle,which tighten it to the seat. The top back-side of the organizer has a strap with a buckle. The adjustable strap on the top go easily behind the headrest supports, and the elastic strap on the bottom slipped around the base of car seat.

The AOSO car seat organizer is attached additional bonus visor organizer. You can use the visor organizer to store pens, sunglasses, insurance card, registration etc. which makes it easier to have access instead of digging around in your glove box in case you get pulled over. It's very easy to attach to the front seat too. There is a small strap with a clip that goes around the head rest and another that goes towards the seat. It doesn't interfere with the comfort of anyone sitting in the front seats.

The overall design was well thought out as well. All storage pockets are roomy and well placed. This organizer holds an incredible amount of stuff without straining the mesh pockets (and there are plenty of them).the backseat/trunk organizer is measuring 11.8 x 1 x 22 inches (19*9*20cm). It's designed to fit most family cars such as: micro car & subcompact car & compact car & mid-size car with two adjustable straps for the headrest posts, so it will be simple and easy to install on the front seats for organizing your car, or on the back seat for organizing your trunk.

This car seat organizer is highly recommended to anyone who spends a lot of time in the car traveling. This is a good way to keep your stuff organized and easily accessible.

How to buy AOSO JRS-212 Car Seat Organizer? Here is your amazon link: https://www.amazon.com/dp/B01I2ZAC9S.

About AOSO:
Aoso is mainly engaged in handy electronic products and accessories with style, such as bluetooth devices, gaming device, cables, nice gadgets etc. In the pursuit of excellence, Aoso takes the customer satisfactory for core values, great products, great value and great service. Aoso keep going on superior product qualities and advanced service to be the best seller. With AOSO, life is easy and simple.