Washington, DC, 12/17/16, 10am to 5pm: Organizers are gearing up for their anti-Trump Protest at historic ground for civil rights movements, The Lincoln Memorial.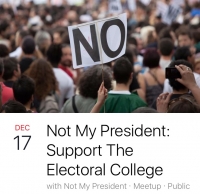 FOR IMMEDIATE RELEASE

The demonstration is strategically scheduled for this Saturday, just two days before Electoral College members meet in their respective states to cast their votes for president. The protest aims to urgently impress upon Electors that the vast majority of Americans fear a Donald Trump Presidency, and believe it will result in one of the most divisive, oppressive and perilous administrations in US history, further endangering millions of marginalized individuals.

They are gathering to speak out and resist the violation of their civil-rights, tolerance of hate, and complacency in the face of injustice. They will be urging the Electoral College to fulfill their most important duty, preventing an unfit demagogue from reaching The White House. Featured speakers include: Danielle Muscato, Feminista Jones, and Christian Picciolini.

In her op-ed for Newsweek, Danielle Muscato explained, "I don't think it's too much to ask for a president-elect who cares, deeply, about the health, welfare, and wellbeing of every single American, regardless of income, education level, race, gender identity, sexual orientation, country of origin, or any other factor."

Regarding the concept of ally-ship Feminista Jones told The Guardian "What I need is for people to come and work with us in the trenches and be there alongside us. It's not about being on the outside and saying 'yes, I support you!' It's about 'not only do I support you, but I am here with you, I am rolling up my sleeves. What do I need to do?"


• Ms. Muscato is a Civil-rights and LGBTQ activist, pundit, columnist, and most recently, author of the fiercely resounding viral "tweetstorm," in which she called out Donald Trump for his narcissistic behavior totally unfitting of a president elect.

• Feminista Jones, community activist, Sex-positive feminist, award winning blogger and writer's work centers on Black American Culture, Critical Race Theory, and Intersectionality.

• Mr. Picciolini, Author of "Romantic Violence: Memoirs of an American Skinhead, is a reformed Neo-Nazi, Peace Advocate and activist.