Mobissue released the free flip book maker for the mobile marketing. It develops many stunning features for the mobile content building.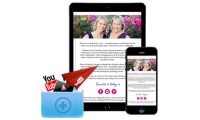 FOR IMMEDIATE RELEASE

Mobissue recently announced the launch of its new flip book maker to aid the creation of mobile-friendly flip book. Digital marketing remains the most efficient advertising strategy and businesses need to harness the inherent benefits of being on the internet.

With the majority of internet users assessing the platform on their mobile devices, thanks to the advent of smart devices, businesses looking to profit from the massive human traffic on the internet, need to create captivating and rich content that can be easily and efficiently accessed on the go with mobile devices.

Mobissue's flip book maker is created with the aim of providing interactive, rich and engaging mobile experiences without having to break the bank or even being an expert in graphics or digital publishing. The features of the flip book maker has drawn interests of digital from across the globe, with over a million flip books already made using the software in its relative short while of existence.

With 4 easily editable templates – cool, flip, normal and slide, flip books can be created in minutes without any expertise. The works perfectly fit different mobile sizes and gives readers the best readability experience.

Some of the unique features of Mobissue's flip book maker include data encryption, super editor for the addition of animation and other multimedia content, unlimited cloud hosting platform, digital sharing, and advanced event editor.

Mobissue is available for download to Windows and Mac users with testimonies pouring in from different digital publishers and other such users across the globe. For more about this mobile digital publishing software, please visit Mobissue official webpage.