For the new mobile reading experiences needs, Mobissue makes it easy to convert PDF to flipbook for mobile devices. It provides the best reading experience for the mobile readers.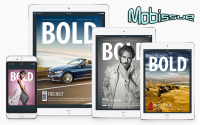 FOR IMMEDIATE RELEASE

Mobissue enables mobile users to convert PDF document and digital images into HTML5 flipping book. Readers can view HTML 5 flipbooks on any iPhone, iPad and Android device without a PDF reader app.

"With mobile devices becoming more sophisticated, it is convenient to read content while on the go. Mobissue allows easy viewing of mobile content and will automatically detect and adjust to different mobile screen sizes," said Winston Zhang, CEO of Mobissue.

Mobissue converts PDF to flipbook with realistic page curl effect and delivers flipbooks across the web and mobile devices. The most realistic and advanced page-turning effect makes static PDF documents more vivid and keeps readers engaged throughout their flipping experience. The Premium version makes it easy to create multimedia flipbook and allow subscribers to add animation, customize backgrounds, add audio hyperlinks, newsstand embedding, logo branding, share via social networks, etc. Readers can turn the pages like real printed books and enjoy rich media.

Features of Mobissue include:
• An option to share digital publications via social networks
• A personal portfolio homepage
• Issue newsstand for mobile
• Notifications & ADs
• Instant managing of subscribers
• Search Engine Optimization (SEO)
• Option to view content analytics.

Mobissue provides a free trial version; interested users can download the trial version and try the digital flipbook software at Mobissue homepage.

About Mobissue

Mobissue is dedicated to offering branded page-flipping digital publication creation and solutions for businesses and professionals. Mobissue, focusing on simplicity in use and power in features, have helped users design and deliver numerous professional digital page flip publications and has been widely acknowledged for excellent products and services.