Love is in the air. Audio4fun inspires all users to get out of their traditional Valentine routine and design their own social kind of romance this year.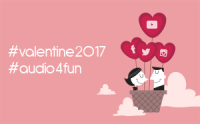 FOR IMMEDIATE RELEASE

This Valentine's Day, not only couples, but all singles will be able to celebrate their own version of this romantic holiday with lots of love and surprises, and some help from Audio4fun. A traditional romantic gift is always effective, but for an even better one, Audio4fun encourages users to create their own shades of Valentine romance by going out of the usual predictive spending routine, and adding the element of surprise by plunging in the world of social media. More information can be found at http://www.audio4fun.com/promotion.htm

Insert surprises into Valentine gifts

The "Month of Love" has come, and Audio4fun believes that many people will immediately think of a fancy dinner, or chocolates, roses, or jewelry when talking about Valentine romance. However, the scent of love materializes in all kinds of forms and activities, ranging from a Facebook greeting or Instagram photo, to a romantic gift for a significant other, or even loving presents for family members. One special flower can mean as much as a hundred roses with the right thoughtfulness, dedication and a flamboyant presentation. Therefore, with Audio4fun's professional audio and video software, the company hopes to bring new inspiration to users, so that everyone can adorn the core values of Valentine's Day with a secret digital astonishment, and share their own definition of romance on social accounts while also being connected intimately, emotionally and thoughtfully in the real world.

A social kind of Valentine romance

"This year, Audio4fun suggests a social kind of romance that can be in any form and be felt in both traditional ways but expressed through social media," said Chris R.F., Head of Quality Administration.
"Ultimately, the whole point of a gift is to make the receiver feel loved and cherished, so why not make your original gift more special with the enhancement of a social ingredient? A quick example, you can make a handmade video with the title 'Reasons why I love you,' then plan a special dinner and a home movie night with your significant other. Imagine the surprise and delight when you substitute your personal video, with daily scenes of you two together, along with video effects, background music and a professional audio message. Remember to put a camera to capture your partner's reactions. People will absolutely feel jealous when they share the happy moment on Facebook."

In the days of digital connections, Valentine's Day can be seen and experienced everywhere, from cyberspace to the decoration of a chocolate store nearby. A great gift is not necessarily a dozen of roses or chocolates anymore. It can also be a box of chocolates with an iPod and audio message, or a bouquet of roses with a mix of family favorite songs, and can be enhanced greatly when shared on social sites. Anyone can buy Valentine gifts, post nice photos to Facebook and Instagram, but not many can make a romantic Valentine gift that goes beyond traditional expectations. Therefore, Audio4fun sincerely suggests users check out this truly unique, personal, classic-yet-creative social kind of modern romance that will give any recipient or social friends a big surprise of sheer excitement.

To help users create their own kind of Valentine's romance and share it on social network this year, Audio4fun is having a 40% OFF sale on all of its audio and video products. All readers can visit https://www.audio4fun.com/promotion.htm for more in-depth specifications.