To better optimize the using experience, FlipBuilder recently released the updates of the Flip PDF new version v4.4.7.6. It fixed the bugs and added new functions.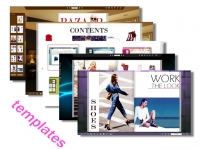 FOR IMMEDIATE RELEASE

Recently, for the new development, FlipBuilder carried out the new version V4.4.7.6 for the Flip PDF marketing booklet maker. These changes include the little changes of the using interface, new feature added and the bugs fixed. Its HTML5 & Flash version publications can help marketers to better attract the potential customers and expand the business over the world.

According to the users' feedback and company developing plans, FlipBuilder released the new version with the following upgrades:

 Synchronize the output configuration of HTML5 & Flash version.
 Add a blank style [-] for mobile mode. This style will change the template layout and keep current settings.
 Now the Template language settings in HTML5 mode can be edited.
 Fix the bug "the background music is invalid when publishing for mobile only".
 Fix the bug "error occurred and software closed when converting special PDF to flipbook".

Flip PDF is always the hot marketing booklet maker for online presentation or online business promotion. It can help to convert PDF to flipbook in minutes. With the realistic 3D page flip effect, the booklet can catch the eyes of visitors and hold their steps. With the rich online resources for the digital publishing, Flip PDF users can easily customize the reading atmosphere with the templates, themes, backgrounds and more. It is an effective way to save time in publishing.

It is worth to mention the new added features—the blank style for mobile mode. As it known to all, Flip PDF can help to create the mobile friendly page flip content which supports readers to access with iPhone, iPad and Android phones. This blank style is designed to help the users to quickly change the template layout, but still keep the previous settings. It brings the convenient to mobile designing.

Now, Flip PDF is in construction for the new features. FlipBuilder designing team and developers welcome all of users to carry out the valuable feedbacks. If someone shows interest in the 3D magazine software, it is also possible to click for more.