New York Injury and Malpractice Attorney Justin Varughese nominated for the Lifetime Achievement award by America's Top 100 Attorneys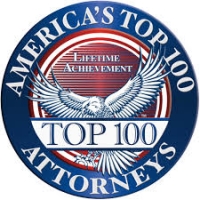 FOR IMMEDIATE RELEASE

The New York City personal injury and medical malpractice law firm Leitner Varughese PLLC is honored to announce that Justin Varughese, a Founding Partner of the firm, has been nominated for the Lifetime Achievement award by America's Top 100 Attorneys for 2017.

Leitner Varughese is routinely heralded as preeminent trial lawyers by nationally aclaimed organizations including the National Top 100 Trial Lawyers, Super Lawyers, American Academy of Trial Attorneys Premier 100, Rue Ratings Best Attorneys in America, and America's Top 100 Attorneys.

Mr. Varughese's trial results have been featured in New York's Top Verdicts and Settlements and Zarin's Jury Verdict Review & Analysis publications, and he has routinely been recognized by National Top 100 Trial Lawyers, Best Attorneys of America and Super Lawyers. In addition, the Firm's partners, Justin Varughese and Brett Leitner, are routinely called upon to handle high-profile and newsworthy cases, many of which have been featured in news and media outlets, including the New York Law Journal, the New York Post, the New York Daily News, Channel 7 Eyewitness News, CBS News, Best of Long Island Press, Newsday, News 12, the LI Herald, and FIOS 1, amongst others.

In just the past few years, Leitner Varughese attorneys have facilitated in the recovery of over $100 million on behalf of clients that were injured because of car and truck accidents, construction accidents (involving New York State Labor Law violations), slip/trip and falls, and defective pharmaceuticals, including the recovery of over $50 million alone in verdicts and settlements on behalf of the victims of nursing home neglect and abuse.

Lifetime Achievement selection to America's Top 100 Attorneys for each state is by invitation only and is reserved to identify the nation's most exceptional attorneys whose accomplishments and impact on the legal profession merit such an award, said officials.

Officials said selection is based on a lifetime of hard work, ethical standards, and community enriching accomplishments that are inspiring among the legal profession. To help ensure that all attorneys selected for membership meet the standards expected for selection, candidates for lifetime membership are screened based on a broad array of criteria, including the candidate's professional experience, lifetime achievements, significant case results, peer reputation, and community impact. With these extremely high standards for selection to America's Top 100 Attorneys, less than one-half percent of active attorneys in the United States will receive this honor.

About Leitner Varughese PLLC

Leitner Varughese PLLC is a cutting-edge litigation and trial law firm uniquely experienced in handling high-profile, complex lawsuits involving serious injuries and wrongful death. The Firm has vast experience in handling cases involving Nursing Home Abuse and Neglect. In addition to handling these types of cases, Leitner Varughese PLLC routinely and successfully represents victims that have been sustained serious injuries caused by:

Construction Accidents
Medical Malpractice
Motor Vehicle Accidents
Trip / Slip & Fall Accidents
Labor Law Violations
Negligent Premises Security
Products Liability
Defective Drugs

For more information about Leitner Varughese PLLC or to be a part of our team, please contact us at (855) LV LAW NY (855-585-2969), or visit our website at http://www.lvlawny.com.