To record the sweet time, FlipHTML5 photo book maker can help to create the amazing memory book with the impressive images.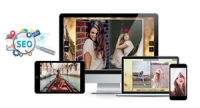 FOR IMMEDIATE RELEASE

Recently days, FlipHTML5 launched a series of beautiful and impressive photo book demos for all events, varying from baby, family , birthday, graduation, products, fashions and festivals. The purpose of this promotion is to tell the users that FlipHTML5 can be the killer photo book maker to showcase the happy times with images. For example, the digital birthday memory book will be full of the birthday images to deliver the sweet love.

FlipHTML5, the photo book maker, can help to collect the sweet memories into the page flip books and share with friends or families. The fast way to do it is import the images into FlipHTML5 desktop software and customize the images in unique style. FlipHTML5 provides users the pre-design templates, themes, backgrounds and the book-like interface. Besides, users can take advantage of the page editor to manage the images and add texts or videos. It is never been so easy.

For those who want to design the photo book from start, they can directly design in FlipHTML5 page editor from blank. FlipHTML5 allows users to express the memory with texts, images, slideshows, videos, flashes and more. All the objects added can achieve the vivid dynamic effect. The page layout is up to the user. And there are a great number of small tools to help users design the layout.

After designing, FlipHTML5 allows users to publish online and offline. With the advanced HTML5 technology, the published memory book is mobile friendly and search engine friendly. No matter online or offline, it can be accessed on mobile devices. For those who do not own a website, FlipHTML5 provides the online cloud platform for online publishing and sharing. Users can freely publish memory books and share via emails or social networks.

For how to make a family reunion memory book, readers just click to know more.