Modern Art and Star Trek™ Fans Have 4 New Prints to Add to Their Collections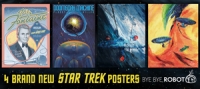 FOR IMMEDIATE RELEASE

Austin, Texas – March 31, 2017 Bye Bye,Robot is announcing the launch of four new Star Trek prints. Included in this release are new artworks representing Star Trek: The Original Series, Star Trek: The Next Generation, Star Trek: Deep Space Nine and Star Trek: Enterprise.


The newest artist working with Bye Bye Robot, Nicole Padberg Munkdale, offers Star Trek: Deep Space Nine fans a new collectable. This piece is a tribute to classic Las Vegas style concert marquee posters from the 1960s, however, this time featuring Vic Fontaine direct from Quark's Bar. A graphic artist and actor, Nicole is no stranger to Star Trek. Some of her previous work includes acting in Star Trek: The Experience in Las Vegas, Nevada. Entitled "From the Heart," this new piece is 18"x24" on heavyweight acid-free card stock and presents colors and imagery from Vic's club.

Charity Wood of Bye Bye, Robot mentions, "Some of my favorite Deep Space Nine episodes are the adventures that take place in Quark's holosuites. To me, there's no better way to represent those episodes, than a design that captures the color and panache of a yesteryear inspired poster featuring our favorite holographic crooner, Vic Fontaine."

The second poster in this release is by returning artist, Mark Brayer. Created in the same style as his ship series that you may be familiar with, he brings us "The Doomsday Machine" a design featuring the ships U.S.S. Enterprise and the U.S.S. Constellation along with key elements from the Star Trek: The Original Series episode of the same name. His signature retro book cover style accents the color and text of his design. Comprised of subtle shades of blue and bright highlights of orange this visually striking poster is 16"x24" and is printed on heavyweight acid-free card stock.

Returning artist, Jeff Foster brings two new images to collectors, for this release. This time his first piece brings us a view of the classic N.C.C. 1701 in shades of blue, red, orange and white. The thick angular paint strokes are highlighted by opposing accent lines and the bold front facing view of the ship. Entitled "Blue Enterprise" and sized at 18"x24" this head on sight stares viewers right in the eye and displays the strength of its subject.

Jeff's second painting features three different eras of the U.S.S. Enterprise, including Star Trek: The Original Series, Star Trek: The Next Generation and Star Trek: Enterprise. Set against a colorful nebula background filled with shades of yellow, orange and green, the three ships hover dramatically in their contrasting shades of blue. This piece encourages viewers to create their own ideas about the story behind this unique meetup. Entitled "Enterprise x3" and sized at 18"x23" this, along with his other poster, feature his striking Modern Impressionist style and are created solely by the use of a palette knife to apply paint to canvas…using no brushes.

Under license by CBS Consumer Products, each of the new art prints are printed on acid-free heavyweight coverstock and are available for $25 each. They are available in the U.S.A. for purchase, beginning today, from byebyerobot.com at the price listed above, plus shipping.

™ & © 2017 CBS Studios Inc. STAR TREK and related marks are trademarks of CBS Studios Inc. All Rights Reserved.

# # #

About Nicole Padberg Munkdale

Nicole Padbert Munkdale is a full time graphic artist. Her work in graphic design and illustration has been utilized heavily in modern concert posters and music promotion. Nicole's artistic talents are not limited 2-d paper and canvas; she is also an accomplished actor. Some of her previous acting work includes Star Trek: The Experience, formerly in Las Vegas, Nevada.

About Mark Brayer

Mark Brayer is a full time illustrator and cartoonist with his own studio, Lightspeed Studios, and has been working in the field for over 25 years. He has created a vast amount of art for greeting cards, comic books, illustrated characters, book covers and illustrations, magazines, corporate logos and branding, websites and graphic design. His unique style and versatility has led to a wide spectrum of endeavors.

About Jeff Foster

Jeff Foster is a Southern California artist who's been working in illustration and painting for the past 17 years. Receiving his Bachelor's Degree in Illustration from California State University Long Beach, Jeff shows his work throughout Southern California while bolstering his list of private collectors.

About Bye Bye Robot, LLC

Founded in 2011 by Charity and Chris Wood, Bye Bye, Robot is an independent publisher of art. Currently, they are a licensed seller of original works of art based on all of Gene Roddenberry's live action Star Trek™ TV series plus Original Series and Next Generation movies. Bye Bye, Robot is dedicated to creating deeply immersive, visually spectacular pieces of art that will amaze and inspire viewers for generations. You may visit Bye Bye, Robot at www.byebyerobot.com.