PubHTML5 has developed the flipbook software with the different versions to meet the demands of various users. It also provides the online platform for free publishing.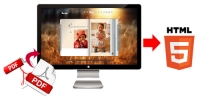 FOR IMMEDIATE RELEASE

PubHTML5 has been developed as the new tool to convert PDF to flipbook as it has a variety of functions. Recently, PubHTML5 flipbook software has upgraded the functions and makes it more powerful for the users to publish the digital magazines, online brochures and catalogs.

PubHTML5 allows users to convert PDF to flipbook with the original link and table of content. It can help to customize the flipping content with book-like template and a large number of themes. Users can choose the online themes to decorate the flipbook. Moreover, they can define the navigation tool bar language to be the native language and brand the unique logo to the flipbook.

To enrich the content, PubHTML5 flipbook software provides the page editor and animation editor for the paid users. They can freely arrange the pages; add the videos, audios, flash, hyperlinks and slideshows to make the content attractive and interactive. Besides, they can take good advantage of animation editor to add dynamic effect to the multimedia, making the content animated.

"We make everyone to enjoy the benefits of this PDF to flipbook software so that we provide the Windows and Mac version desktop software with quick updates." Said Jason Chen, the CTO of PubHTML5, "Also, we develop the online version for the users, which can make it easy to publish online without downloading the flipbook software."

As mobile reading takes large amount in online reading, PubHTML5 makes all published content mobile friendly. In other words, readers can enjoy the smooth reading experience with mobile devices no matter where they are at any time. They can even download or print the favor one for special purpose.

For more about the flipbook software, please go to PubHTML5 official website.

About PubHTML5

PubHTML5 is the all-in-one solution for digital publishing which can help to convert PDF to flipbook in minutes. It provides the online and offline digital publishing solution to the users.