Lord Conrad has been teasing the name of his new single for a few days, and finally Friday he revealed that his new upcoming single will be called TOUCH - THE SKY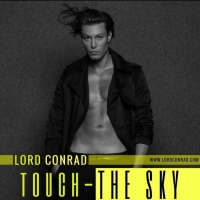 FOR IMMEDIATE RELEASE

Conrad began revealing the art on Google,

Lord Conrad posted 3 possible covers in three color-ways and one of those is shown below.

We don't actually know, if this is the definitive one.

But speculation is that: this might be the final one.