As the leading flipbook software, FlipHTML5 provides the cloud platform for online publishing. Now, for the users to understand it better, FlipHTML5 listed the benefits of digital flipbook publishing.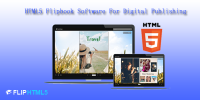 FOR IMMEDIATE RELEASE

Nowadays, digital flipbook is everywhere to provide the newest and comprehensive information for the readers. What makes this a fashion trend and how can they do it? FlipHTML5 flipbook software gave the specific answer today and cites the main advantages of digital flipbook publishing.

"The digital flipbook publishing makes the content interactive, which can help the publishers to provide the different aspects of services and products vividly." Said William Zheng, the marketer of FlipHTML5, "The most important factor is that people can digest the content everywhere without carrying anything but the mobile device. That's a great idea to read online smoothly."

From the perspective of FlipHTML5 flipbook software, the digital flipbook can help to save the publishers' time and money. What's more, it is environment friendly, which is good to the Earth. For example, FlipHTML5 provides the cloud platform for publisher where they can convert PDF to flipbook without downloading the software. Once the conversion finished, users can one click to share on social network and email to the readers. How convenient it is!

As the digital flipbook creation becomes easier and easier, publishers who do not know the designing and programming can also publish it online. For instant, FlipHTML5 is easy to use with the text and video tutorial online. And on its learning center, FlipHTML5 released the digital publishing ideas from time to time. With just several clicks, the PDF can become the online flipbook, how easy it is with FlipHTML5!

FlipHTML5 digital flipbook software also takes the marketing into consideration. On its cloud platform, publishers can also sell the interactive flipbook. This flipbook creator is with outstanding features, no wonder the killer tool for publishers. Why not go to have a try now?