Use Focusky to create the amazing videos and business presentation to boost the business! Focusky can help users to grab the attention in any business situation with a stunning visual presentation.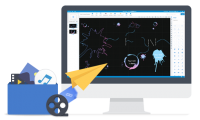 FOR IMMEDIATE RELEASE

Here comes the great news that Focusky business presentation software can help to create the video presentation with the animated effect. It can help the users to grab the attention of target customers and boost sales directly.

How Focusky can helps to boost business? First of all, Focusky business presentation software is free download for both Windows and Mac users. It also provides the online publishing and sharing platform for the users to broadcast the business online. Focusky is the all-in-one solution that develops with the comprehensive services.

To make the business video presentation captivating, users can choose the best template and add the powerful words to inspire the audiences. It is also possible to add the 3D background to entertain the audiences. There are different backgrounds for the users to choose: 3D background, image background, video background and background color. All these are in the users' control.

"Our users are satisfied with the animation effect for the video. With Focusky, they can make their fantastic ideas come true," Said Mattie Lee, designer of Focusky, "I am happy to know that more and more people love my designed templates and enjoy the awesome effect of created videos. Our team will work hard to bring more wonderful templates and designing materials to benefit the users."

Users can add the images to create animated slideshow to display the products and services. Besides, they can add the roles, charts and different kinds of shapes to enrich the business presentation. The content layout can be set different depending on the users. And users can add animation to the above objects to make the presentation more professional.

Focusky free business presentation maker is free to download now. It also provides the free customer services and version upgrades. Go to create a stunning business presentation now!