Now the Mac users can free download the magazine software for Mac to create the interactive magazine. FlipBuilder prepared everything for the loyal users.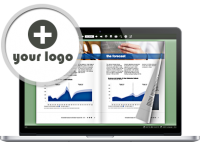 FOR IMMEDIATE RELEASE

FlipBuilder is excited to announce the launching of their latest version of magazine software for Mac. The name of this new software is Flip PDF for Mac and this wonderful software was developed to help Mac users create the beautiful magazine they have been wishing for.

Flip PDF for Mac is a computer based designing software that allows users to design magazine with their creative mind seamlessly. The software is equipped with pre-designed templates and backgrounds that enable users to create and publish a magazine with just a few simple clicks. It also allows the users to brand the magazine by making use of their unique logo and link.

"We are in a fast-paced world where many people have the ultimate busy schedule; this prevents many people from creating attractive magazine while staying in their comfort zone. This makes people to hire professional designers to design their magazine for them, which definitely waste time and money. Flip PDF for Mac is designed to solve this global problem by building software that enables an average person to design and publish a digital magazine on the move." Said Alice Lee, marketing of FlipBuilder

The number of Flip PDF for Mac users is on the rise because of the great ease this software makes the process of publishing a magazine to be. The software ensures that users find it easy to publish an interactive and responsive digital magazine in minutes.

Flip PDF for Mac by FlipBuilder has made magazine publishing easy for everyone. This innovative magazine publishing solution is equipped with many user-friendly features. People who look forward to improving the way in which their magazine is designed and published must try out this flawless magazine publishing software today. More details on this magazine maker can be read on FlipBuilder website.

For more information, visit FlipBuilder website: http://www.flipbuilder.com

About FlipBuilder

FlipBuilder was founded by Mr. Winston Zhang, the headquarters of the company is In Hong Kong. FlipBuilder is an innovative magazine publishing platform, providing the best solution to publishing attractive and engaging magazine online.