Pinnacle Real Estate Advisor continues to stack its team with the addition of Melissa Mosey.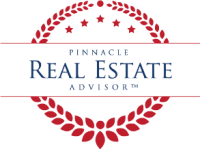 FOR IMMEDIATE RELEASE

Pinnacle Real Estate Advisor, Missouri's premier mortgage team, is very excited to announce the addition of Melissa Mosey to its team of real estate professionals! As a Director of Business Development and a licensed Mortgage Loan Originator, Melissa will play an integral role in the entire residential mortgage process while surrounded by Pinnacle's talented team.

A St. Louis native – Melissa has a great passion for this town and for the people who call St. Louis "home." She achieved her Bachelor's Degree from the University of Missouri – Columbia in Sport Management. Prior to joining Pinnacle, Melissa was a leader in business-to-business sales, consistently performing in the top 10% of the company. With her successful sales background and focused vision for the future, Melissa is expected to be a critical contributor for Pinnacle.

It is said that great things happen when you least expect them, and that was certainly the case with Melissa. Pinnacle was not actively recruiting for a new team member, nor was Melissa looking for a new opportunity, but there was an instant connection. "I was immediately attracted to their boldness and inspiring vision for the future," said Melissa. Pinnacle seeks like-minded individuals dedicated to helping borrowers and the community, so Melissa seems to be a great fit. "We are proud to have Melissa join our team. Her transition into the mortgage industry and into the Pinnacle culture has been seamless. Once again, we feel that the Pinnacle vibration has attracted outstanding talent in the person of Melissa Mosey," said Bill Lally co-founder of Pinnacle.

Melissa will be working at the multiple Pinnacle branches. She is expected to work closely with Pinnacle top producers, including vice-president Chelsey Sullivan.