THINKSOUND™ announces the release of the new ts03+mic in-ear headphones and eliminates the packaging from their products.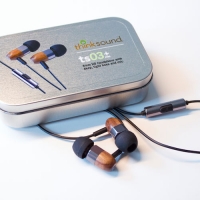 FOR IMMEDIATE RELEASE

THINKSOUND is proud to announce the all-new ts03+mic; the successor to the award-winning ts02+mic headphones. The ts03+mic features an 8mm dynamic speaker driver, upgraded acoustics for more accurate sound reproduction, and a wider sound-stage compared to the previous model. The result is a warm, tight, detailed sound; while not being fatiguing after long listening periods. Perfect for use while on the go or just to relax and unwind.

"The ts03+mic is a headphone has that perfect balance of sound quality and enjoyment," says Aaron Fournier, President and CEO of THINKSOUND. "The ts03+mic isn't a monitor. It's a fun headphone for everyday listening that I think audiophiles will appreciate as much as the casual listener. The new mic design is more refined as well."

The ts03+mic will be available in a single finish – a gunmetal baffle mated to walnut wood housing. Included are four different-sized silicon earbuds to ensure a comfortable fit, a cotton carrying pouch for the headphones and accessories, and a new steel hard case.

"When we started THINKSOUND over 9 years ago, we really tried to do things a bit smarter. We never used a plastic bubble for packaging because they're annoying to open and to be honest; pretty wasteful. Over the years, we've been making changes to our products, packaging and processes to make them more efficient. We reduced the size of packaging even further a couple of years ago. These little changes helped save tons raw materials and fuel from shipping. It really adds up," says Fournier. "We've gotten a lot of requests from customers for a hard case too. One day it just hit us, why not put the headphones in the hard case and eliminate the packaging entirely. It's not needed! And the case and printing is made in the USA, which is important to me."

"By bringing our packing, inspection and package/case manufacturing to the USA, we are now shipping the same amount of headphones in 75% fewer boxes. Packing and inspecting our products in the USA also allows us to ensure that we maintain the standard of quality that THINKSOUND is known for," says Fournier. "We will also be using the hard case for our other earbuds across the product line. Any earbud bought directly from our online store will ship in the new case and we will be phasing it in to other dealers and products as time moves forward."

THINKSOUND offers several in-ear headphone models, an award-winning on-ear monitor and a growing line of accessories.


###


About THINKSOUND:

THINKSOUND began with a simple goal; to create incredible sounding headphones with the smallest eco-footprint possible. Our headphones are made with real wood, creating a more natural resonance and unparalleled acoustics.

We take our environmental impact as seriously as we do our audio products. All packaging is crafted from recycled materials, with minimal plastic components. Our headphones feature PVC-free cables and wood from renewable sources. The result is great sound that you can feel good about.

THINKSOUND was founded by audio and consumer electronics industry leaders with over 25 years experience bringing exceptional audio products to market. We invite you try our headphones to experience the difference that quality craftsmanship and attention to detail make.

THINKSOUND is owned and operated by TIMBRE SOUND LLC. For additional information please contact hello
thinksound.com or visit www.thinksound.com.