Mobissue announces the launch of its page turning maker designed for easy creation of mobile content. It can provide the best mobile reading experience.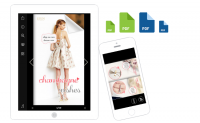 FOR IMMEDIATE RELEASE

The page turning maker is the latest digital publishing solution from the Asian digital solutions provider--Mobissue. Mobissue is designed by the software giant to ease the creation of digital content compatible with mobile devices. It enables the mobile publishers to create the interactive content to entertain the mobile readers.

This page turning maker has a user-friendly interface, allowing anyone regardless of their level of computer skills or knowledge to create stunning page turning content for the mobile devices. The software allows for the easy conversion of convert PDF/images to page turning content and subsequently helping businesses increase awareness about their brand.

With the world becoming a global village and seemingly fast-paced especially with everyone working on-the-go thanks to smart mobile devices, it is imperative for success-oriented brands to blend with the trend and put their brands in the faces of the target audience. Mobissue is free to download and make the conversion from PDF/images to flipbook in minutes. It can help to customize the reading interface with comfortable settings.

Mobissue is designed to create responsive HTML5 flipbook for mobile devices from PDF. This allows for increased and more effective customer engagement. The ease of using the software also ensures that users do not need to write codes or have sophisticated computer skills to create professional digital content.

Other amazing features of Mobissue include super animation editor for the addition of multimedia content and the opportunity to make SEO-friendly flipbooks to rank better on search engines like Google. The animation editor can make the content express more with engaging reading experience. The users can also add links, images and videos to enrich the reading experience.

For more details, please visit Mobissue official website.

About Mobissue

Mobissue has helped businesses and readers get the best from digital content. The company boasts of effective and user-friendly digital content solutions designed to help businesses create stunning and captivating content and subsequently reach a wider audience with the aim of increasing sales and getting more businesses.