Both new posters are inspired by the celebration of Star Trek: The Next Generation's 30th Anniversary, on September 28, 2017. Modern Art and Star Trek Fans Have Two New Posters to Add to Their Collections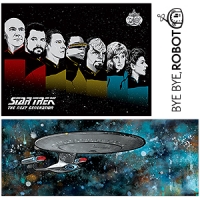 FOR IMMEDIATE RELEASE

Austin, Texas – September 28, 2017 Bye Bye,Robot is announcing the launch of two new Star Trek prints, by returning artists Tracie Ching and Charity Wood. Both new posters are inspired by the celebration of Star Trek: The Next Generation's 30th Anniversary, on September 28, 2017.

Tracie Ching's newest print, "TNG 30" is an 18"x24" lithograph printed on 100lb paper. It portrays the characters central to the series atop a vast starfield and features the official TNG 30th Anniversary logo. Included in the portraits are: Captain Picard, Commander Riker, Lt. Commander La Forge, Lt. Commander Data, Lt. Worf, Counselor Troi and Doctor Crusher.

"We're very pleased to be working again with Tracie Ching," says Chris Wood, Co-Founder of Bye Bye Robot. "Her work spans films, concerts, sports and much more, and brings a modern bold style to our STAR TREK™ artwork lineup."

The second poster in the release is Charity Wood's newest print, "Make It So," which is an extra wide 14"x36" that unites well with the other ships in her series. Printed on acid-free heavy-weight card stock, this piece portrays the U.S.S. Enterprise as it flies through uncharted territory on its signature mission of continued exploration. Her stylized use of paint splatters, bold color, and inverse linework add to the energetic feel of this iconic ship's portrait.

Under license by CBS Consumer Products, each of the new art prints are available for $25 each ("Make It So" is a limited-time introductory price). They are available in the U.S.A. for purchase, beginning today, from byebyerobot.com at the price listed above, plus shipping.

™ & © 2017 CBS Studios Inc. All Rights Reserved. STAR TREK and related marks are trademarks of CBS Studios Inc.

# # #

About Tracie Ching

Tracie Ching is a graphic artist and illustrator specializing in pop culture imagery whose modern designs explode with bold linework and color. Her affinity for capturing the moments in movies, TV and childhood memories that we all have has led to an extensive portfolio of poster art.

About Charity Wood

Charity Wood is an artist and Co-Founder of Bye Bye, Robot. She has a background in traditional painting, and has worked in the film and gaming industries as both a concept artist and production artist. She is currently focused on creating more of her Pas de Lignes style paintings in her private studio, and the day to day running of Bye Bye, Robot, in the office.

About Bye Bye Robot, LLC

Founded in 2011 by Charity and Chris Wood, Bye Bye Robothttp://www.byebyerobot.com/star-trek/ is an independent publisher of art. Currently, they are a licensed seller of original works of art based on all of Gene Roddenberry's live action Star Trek™ TV series plus Original Series and Next Generation movies. Bye Bye Robot is dedicated to creating deeply immersive, visually spectacular pieces of art that will amaze and inspire viewers for generations.